2018 BMW M4 GT4 Prototype Spotted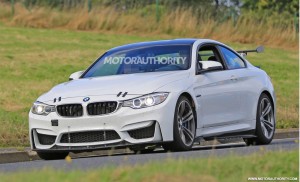 A prototype for the race car version of the BMW M4 was recently spotted. Spy shots of the car were taken while it was undergoing testing.
According to Motor Authority, which is also the source of the photos you are about to see below, the BMW race car is set to debut in 2018. The images show several aero upgrades made to the car to comply with the FIA GT4 regulations. However, as a cost-cutting measure and to ensure the reliability of the M4 GT4, BMW seems to have retained many elements of the car's coupe model.
One noticeable feature of the spied auto suggesting that it is the race car variant of the M4 is its lower ride height. The other factors giving away its identity include the GT4-compliant new front splitter, side skirts, extended wheel arches, rear diffuser and rear wing. The source speculates that some parts of the car like the hood and roofing might use carbon-fiber materials similar to the limited edition of the M4 GTS.
Although it is hard to make out the M4 GT4's interior based on the spy photos alone, the report said it will be equipped with a roll cage, bucket seat paired with a safety harness, and fire suppression system. Again, these should mirror the standards of the FIA.
BMW disclosed that the BMW M4 GT4 carries the same engine found on the race car's road-legal coupe version. Therefore, expect the vehicle to have the same 3.0-liter inline-six engine. The output of the auto should be at least 425 hp with all the power distributed through the rear wheels.
The company stated that the upcoming BMW race car will be designed to meet the rules governing the GT4 events in North America, Europe and Asia. The targeted debut of the M4 GT4 is in January 2018 during the 24 Hours of Dubai race.
BMW M4 GT4 Spy Photos
Check out the spy shots of the upcoming BMW M4 GT4 in the gallery below: