2018 BMW X2 Spied With A Little Camo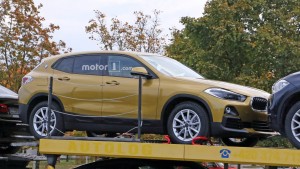 The 2018 BMW X2 was recently caught on cam while it was being transported. The soon-to-be-released SUV of the German brand was seen with a little camouflage.
The photos of the X2 prototype posted in Motor1 showing the auto with just a little camo wrap is an indication that its official unveiling may be near. The source projected that the vehicle might make its live debut at the Los Angeles Motor Show in December with an online reveal probably coming as early as November. It is also possible that the world premiere of the X2 might be pushed until January, which is just in time for the Detroit Motor Show.
With only the areas surrounding the grille, rear glass and the taillights hidden under a zebra wrap, we can see that the X2 production version kept many of the design elements shown by its concept model last year. However, the one we are looking at here ditched the massive twin exhausts and it is riding on smaller wheels. The huge vents located on the sides of the front bumper have been tweaked as well.
The X2 was developed as the X1's sportier version. It has its sights set as a rival to the Mercedes-Benz GLA and the Audi Q2, which explains its coupe-like appearance.
Compared to the X1, the X2 features a sharper nose, thinner headlamps and slimmer rear windows. The taillights will probably be more advanced and sportier compared to the bigger model too.
The X2 is expected to use the UKL platform of BMW. Then, its drivetrains will likely reflect those found in the X1, including a hybrid version later in its production cycle. Furthermore, the interior of the SUV should offer the same level of interior design found in its big brother.
Spy Shots of the BMW X2
Check out the latest spy shots of the upcoming BMW X2 in the gallery below.