2018 BMW X2 To Take On The Audi Q2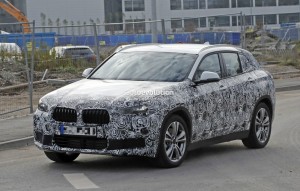 Rumors that BMW is building an X2 crossover has been around since 2011. It was finally semi-confirmed when spy shots surfaced on the streets in 2015 and early 2016.
A concept car was also introduced during the 2016 Paris Auto Show, making it clear as the day that the German company wants to put the competition with Audi Q2 to the test.
Spy photos of the BMW X2 being tested near the BMW Development Center in Munich showed that it will be a sportier and coupe-like version of the X1. It will certainly not have the hunched roofline of the X4 and X6. It will heavily depend on the X1, albeit with a little more legroom.
The X1 and X2 will have similar front fascia with a big twin-kidney grille, as well as sleeker headlamps. It will be more aggressive in appearance compared to the X1, though the X2 will have a shorter tailgate and rear windscreen.
Inside, we expect to see a seven-speaker audio system, a multi-function, leather-wrapped steering wheel, and cruise control, as well as an 8.8-inch display, a 12-speaker Harman Kardon sound system and a panoramic moonroof.
In terms of drivetrain, the X2 will take a page from the X1's book. It will have gasoline and diesel options, both with three- or four-cylinder formats. They will also be offered in both front-wheel and all-wheel drive.
The base model in Europe has a 1.5-liter three-cylinder gasoline unit that produces 134 horsepower. This is coupled with a six-speed automatic and power FWD versions only. There will also be a 2.0-liter four-cylinder engine while the sDrive20i and xDrive20i will have 189 horsepower and the xDrive25i, 228 horsepower.
Diesel-wise, the X2 is getting 1.5-liter three-cylinder that produces 114 horsepower and 199 pound-feet of torque. The base model will be able to crank out 148 horsepower and 243 pound-feet while the high-end variant gets 228 horsepower and a whopping 332 pound-feet of torque.
The X2 could be bought for $37,500 before options.
Audi Q2
A mash-up between the Q1 and A3, the Q2 looks more like a hatchback than a crossover. The only thing that allows it to be in the crossover segment is the aggressive lines, sporty roofline, spacious indoor capacity and the diverse powertrain lineup.
The base is a 1.0-liter three-cylinder that can generate 116 horsepower, while the 1.4-liter four-pot is available 150 horsepower. Higher end models will get the 2.0-liter four-cylinder that produces 190 horsepower.
When it comes to diesel engine, there's the 1.6-liter four-cylinder with 116 horsepower and a 2.0-liter four-banger with either 150 or 190 horses.
The Audi Q2 is priced at $27,780.