2018 Honda Clarity Plug-In Hybrid Has 47 Miles Electric Range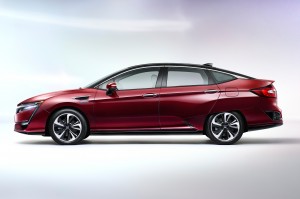 More good news for people who are looking forward to keeping the environment safe for the next generations. Instead of the 42-mile range on a single battery charge that the Honda Clarity plug-in hybrid model promised back at the New York Auto Show earlier this year, we're instead getting a 47-mile electric range.
The Japanese automaker just announced that the production version of the 2018 Honda Clarity Plug-In Hybrid was able to travel 47 miles on battery power alone. This is official by the way, since it was during the EPA testing that the Clarity managed such range and power.
It also got a rating of 110 mpg-e and a gasoline-only rating of 44/40/42 mpg city/highway/combined. Though these are quite impressive numbers, it's the overall range that has us questioning the Clarity. The official number clocked in at only 340 miles. The Toyota Prius Prime plug-in version, which is the Honda Clarity's biggest competition, has a 25-mile EV range but can go up to 640 miles without a single fill-up.
The Honda Clarity Plug-In Hybrid uses a single electric motor that produces 181 horsepower and 232 lb-ft of torque. It also has a 1.5-liter inline-four that mostly acts as a generator for the 17-kW-hr battery pack.
Ray Mikiciuk, Honda's assistant vice president in the United States, argued that Clarity's "luxurious five-passenger package" should give the Japanese brand an advantage over its competitors in the plug-in hybrid market. Mikiciuk said that the combination of the "class-leading" 47-mile range and the cabin space should give the Clarity a top space on the hybrid plug-in ladder.
The move for a 47-mile-range vehicle proves that Honda is now ready and willing to usher in the brand to an electrified future. Seeing as even luxury carmakers have been moving to an electrified technology, this is a sound decision for the Japanese automaker.