2018 Mercedes-AMG GT Roadster To Arrive In 2017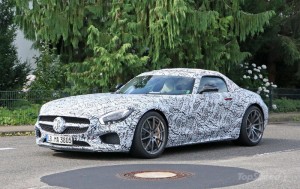 The roadster version of the Mercedes-AMG GT series is scheduled to arrive by 2017, spy shots confirmed. There were rumors earlier that the German luxury automaker plans to skip building an AMG GT Roadster to protect its SL-Class Roadster, which hasn't been doing well in the market.
However, the new spy shots just proved that the roadster is indeed coming as anticipated. This isn't that surprising because Mercedes developed the GT with the Porsche 911 Turbo as competition. Since Porsche came out with a drop-top version of the range-topping model, Mercedes will have to follow suit if it doesn't want to lose the challenge.
On the outside, the Mercedes-AMG GT roadster has a slightly longer deck lid and it will also come without its fixed roof. The soft top will be similar to the shape of the SLS AMG. This is a minor change from the current version, but it does ensure that the body style can transition without exactly ruining the car's sleek appearance.
Inside, the roadster will enjoy the same aviation-inspired theme with the wing-like dashboard with spotlight-style A/C vents in the center stack. There are also the concave-shaped door panels and the motorsport-inspired center console that is stacked with the AMG Drive Unit controls.
Passengers will get to experience the luxurious seating made of high quality materials that include leather, Alcantara, contrast stitching, and exemplary fit and finish. This elegant interior will be finished off by the "infinite" headroom, thanks to the option of a removable roof.
The infotainment system will also be very similar to the coupe and it will include the latest apps and features.
Under the hood, you'll find Mercedes-AMG's twin-turbocharged, 4.0-liter V-8 that can churn out 456 horsepower and 443 pound-feet of torque. The AMG GT S version will get you 503 horsepower and 479 pound-feet of torque.
There is no information yet about the pricing though it is expected that the GT S Roadster will debut at $137,000.