2018 Porsche 718 Cayman GTS and 718 Boxster GTS Get 365 HP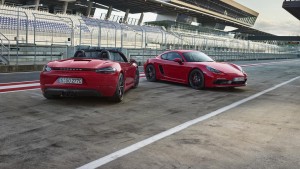 Porsche just expanded the lineup of its 718 Cayman and 718 Boxter range. The automaker recently revealed details about the 2018 Porsche 718 Cayman GTS and the 718 Boxster GTS.
Based on the announcement of Porsche, both models had their outputs raised to 365 hp. The visuals of the cars feature a couple of enhancements too.
Performance
The 718 Cayman GTS and 718 Boxster GTS are equipped with 2.5-liter four-cylinder engines. Thanks to upgrades in the cars' turbochargers and new intake ducts, the GTS models of the Cayman and Boxster now boast increase in their respective outputs by 35 hp and 15 hp compared to their GTS predecessors with naturally-aspirated power units.
The maximum torque of both GTS models have also gone up to 430 Nm. This can be achieved from 1,900 to 5,000 rpm.
The power of the mid-engined sports cars are distributed via a six-speed manual transmission. Buyers have the option to go for the seven-speed Porsche Doppelkupplung (PDK) dual-clutch transmission gearbox too.
The GTS models can be optimized with the Porsche Torque Vectoring (PTV) that comes with a mechanical rear differential lock, Porsche Chrono Package, and the Porsche Active Suspension Management (PASM) lowering the height of the auto by 10 millimeters.
When equipped with all the performance-enhancing options, the 718 Cayman GTS and 718 Boxster GTS can accelerate from zero to 100 km/h in just 4.1 seconds. Then their max speed are capped at 290 km/h.
Design
The GTS models got subtle improvements in their styling to make them stand out from their lower-end siblings. The noticeable upgrades include the new bumpers, lighting system, rear diffuser, exhausts, badges and set of 20-inch alloy wheels in black satin finish. As mentioned earlier, the vehicles have lower suspensions.
Complementing the striking exterior of the cars are Alcantara accents in their interior. Then, the drivers of the car are treated to the Porsche Track Precision App that will let them monitor and analyze their driving performance through their smartphones.
Pricing
The Porsche 718 Cayman GTS has a starting price of 76,137 euros while the 718 Boxster's cost begins at 78,160 euros. The figures already reflect the VAT and other fees in Germany.
Both cars are now available to order. The vehicles are expected to arrive in dealerships in the middle of December this year.