2018 Volkswagen Polo Spied Without Camo Ahead of Its Debut at Frankfurt Motor Show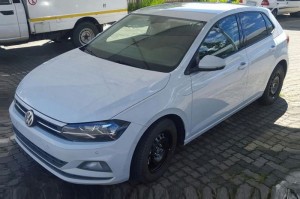 The 2018 Volkswagen Polo is expected to make its world premiere at the 2017 Frankfurt Motor Show. We are still a long way from September but the car has already been spied without its camouflage.
CarThrottle claimed that the spy shots of the sixth-generation Polo were taken while it was being tested in South Africa. The pictures show the car in a modest set of standard black steel wheels like the ones usually given out as a spare.
At the front, the new Polo resembles the Golf model of Volkswagen. A closer examination though would reveal that it is bigger than the said car. Therefore, it follows that the Polo is a bit more spacious. In addition, the upcoming Polo appears to have updated headlamps and taillights.
The Polo is noticeably sharing the same platform used by the Golf, Seat Ibiza and Skoda Fabia. It rides on the scalable MQB-A0 architecture of its maker.
According to Autocar, the Volkswagen Polo aims to go head-on against the Ford Fiesta in the market. The entry-level model of the auto will come with a 1.0-liter three cylinder petrol engine with 64 bhp. Other models will also carry the same engine but with configurations of 74 bhp, 94 bhp and 113 bhp.
A 1.5-liter engine version of the vehicle will have an output of around 128 bhp to 148 bhp. A Polo GTI variant is rumored too equipped with a 2.0-liter four-cylinder engine capable of producing 200 bhp. The source stated that the Polo GTI will be the range-topping model of the series as the brand will no longer offer a Polo R. Look forward to a hybrid Polo as well.
The Polo will still be available in diesel-fed engines. The report mentioned that it will drop the 1.4-liter three-cylinder diesel engine in favor of a 1.6-liter four-cylinder unit. The engine will be configured to deliver 79 bhp, 94 bhp and 108 bhp.
The Polo might not get a four-wheel drive system. On the other hand, its power will be distributed via five-speed and six-speed manual gearboxes. A seven-speed dual-clutch gearbox will be optional.