Monthly Archives:
January 2018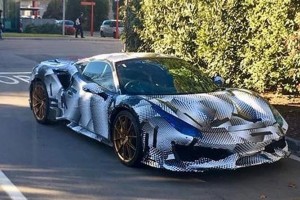 There's a leak and it involved the specifications and features of the Ferrari 488 Sport Special Series. It's no secret that the Italian automaker is working on a high-performance version if its 488 supercar, but it's only now that we have gotten our hands on some useful details.
Most Powerful V8 Engine
When Ferrari says it will produce the most powerful V8 engine in its history, you better believe it. The race bred 488 Sport Special Series will be fitted with the same V8 engine seen in other Ferraris, except this one is something special. In the standard V8, the 3.9-liter twin-turbo can produce 661 horsepower. The race version of this could churn out at least 700 horsepower. The engine will also be 10-percent lighter than the standard powertrain, so expect the Ferrari to "fly."
Racing Technology
The car, typical of Ferrari supercars, will be fitted with the latest in racing technology such as a "race" gearshift, an "extremely" direct steering ratio, all-new Michelin Sport Cup 2 tires, and front S-duct and a rear diffuser from the 488 GTE Le Mans car.
There's also a new aerodynamic package that will be 20-percent more aerodynamically efficient than the regular 488. The new 20-inch alloy wheels that this high-performance 488 is packaged in are 40-percent lighter than the ones on the base model.
Carbon Fiber All Around
The new 488 will almost be made entirely of carbon fiber. There's no other car in the world that used carbon fiber as much as the high-performance 488, reports said. Both the front and rear bumpers, the bonnet, the active rear spoiler, and interior dashboard will be made of carbon fiber. The racing seats will also be made of carbon fiber, so say goodbye to the standard glovebox as well as to other interior niceties.
Speculations are rampant that the new 488 will carry the GTO badge, but the schedule doesn't seem to fit it seeing as Ferrari just released a GTO badge in 2010 via the 599. Seeing as Ferrari only ever revives the GTO badge every two or three decades, it's unlikely that the 488 will get the infamous badge.