Monthly Archives:
March 2018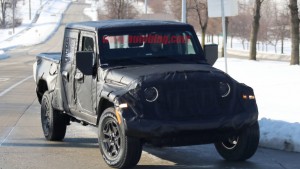 The new Jeep Wrangler will hit dealers' showrooms in April 2019, that's the only piece of information we got from the four-hour-long conference that Fiat-Chrysler dealers had last week. The production for the pickup will begin in the fourth quarter of this year, so it makes sense that availability in showrooms will only start April next year.
What we are waiting for, though, is a look at the bedded Jeep minus the camouflage that we have seen it is wrapped in less than eight weeks ago. There are rumors, and we're pretty sure there's a bit of truth to this, that the official introduction will happen at the LA Auto Show this November to December. If previous timelines are to be the basis, this makes sense since the standard Wrangler only broke cover a year ago (by November).
Though we're anticipating for the November introduction, we don't know exactly what to expect. We don't even know under what name this new pickup will be released. Jeep has kept everything under wraps. But based on all the spy shots and leaks we have heard and seen, the Jeep will be a four-door Unlimited with a short bed. Though there are rumors that it will be a two-door Wrangler pickup, these remain mere speculations up to now.
The powertrain options might be the same as the others in the lineup: a 2.0-liter turbo four-cylinder that can deliver 268 horses, a 3.6-liter Pentastar V6 that produces 285 horsepower, and a 3.0-liter EcoDiesel V6 with 442 pound-feet of torque.
Sergio Marchionne, Fiat-Chrysler's CEO, expects 100,000 Wrangler pickups to be sold each year starting April 2019. If reached, that would mean a 56-percent increase in Wrangler's current US and European volume.
The last Wrangler pickup was the 1986 CJ-8 Scrambler but in April 2019, the Wrangler will join the likes of Chevrolet Colorado, Toyota Tacoma, Honda Ridgeline, Nissan Frontier, and the new Ford Ranger. The Wrangler, however, will still be the only one to offer a convertible top.
Here are the latest spy shots of the upcoming Jeep Wrangler from Autoblog: