Daily Archives:
March 28, 2018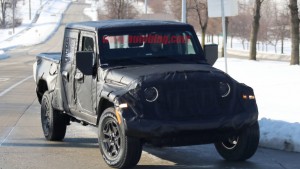 The new Jeep Wrangler will hit dealers' showrooms in April 2019, that's the only piece of information we got from the four-hour-long conference that Fiat-Chrysler dealers had last week. The production for the pickup will begin in the fourth quarter of this year, so it makes sense that availability in showrooms will only start April next year.
What we are waiting for, though, is a look at the bedded Jeep minus the camouflage that we have seen it is wrapped in less than eight weeks ago. There are rumors, and we're pretty sure there's a bit of truth to this, that the official introduction will happen at the LA Auto Show this November to December. If previous timelines are to be the basis, this makes sense since the standard Wrangler only broke cover a year ago (by November).
Though we're anticipating for the November introduction, we don't know exactly what to expect. We don't even know under what name this new pickup will be released. Jeep has kept everything under wraps. But based on all the spy shots and leaks we have heard and seen, the Jeep will be a four-door Unlimited with a short bed. Though there are rumors that it will be a two-door Wrangler pickup, these remain mere speculations up to now.
The powertrain options might be the same as the others in the lineup: a 2.0-liter turbo four-cylinder that can deliver 268 horses, a 3.6-liter Pentastar V6 that produces 285 horsepower, and a 3.0-liter EcoDiesel V6 with 442 pound-feet of torque.
Sergio Marchionne, Fiat-Chrysler's CEO, expects 100,000 Wrangler pickups to be sold each year starting April 2019. If reached, that would mean a 56-percent increase in Wrangler's current US and European volume.
The last Wrangler pickup was the 1986 CJ-8 Scrambler but in April 2019, the Wrangler will join the likes of Chevrolet Colorado, Toyota Tacoma, Honda Ridgeline, Nissan Frontier, and the new Ford Ranger. The Wrangler, however, will still be the only one to offer a convertible top.
Here are the latest spy shots of the upcoming Jeep Wrangler from Autoblog:

Toyota first inherited the Yaris sedan from its defunct youth-oriented sub-brand Scion. It renamed it from the Scion iA to the Yaris iA and that name stuck until the 2018 model year. But all that is about to change as Toyota said it would change the subcompact sedan's name from Yaris iA to simply Yaris.
For the 2019 model year, there will also be three new trim levels for the Toyota Yaris. This was something that was not available for customers when the subcompact sedan was first introduced in 2015. The three trim levels will be L, LE, and the premium XLE. There are no details yet about each of the trim level, but Toyota did say in a statement released on Monday that the premium XLE trim model will have leatherette-trimmed front seats, leather-trimmed steering wheel, and an automatic climate control.
Aside from the changes indoors, there are a couple of interesting updates on the exterior, too. According to Toyota, the new Yaris will enjoy an upgraded front grille, a pair of fog lights, and a lip spoiler that will come standard with the LE and XLE trim levels.
The decision to introduce three new trim levels is a step to the right direction for the Japanese automaker. The mono spec idea does not work for many of its customers even in these times of SUVs and crossovers. Folks still want to be given great choices and options in every segment. A wider market is certainly an understandable reason why Toyota turned to this route.
The 2019 Yaris, and all of its trim levels, will go on sale in the fall. Customers can choose between a standard six-speed manual transmission (39 mpg highway) or the optional six-speed automatic (40 mpg highway). Toyota did not release pricing information, though it's only a matter of time before more details come out.