Monthly Archives:
April 2018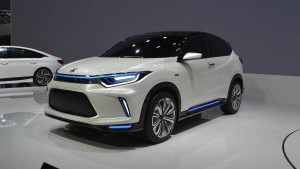 Those of you who think that Honda is simply dwindling their thumbs while everyone is jumping on the electrification bandwagon will soon be proven wrong. At the 2018 Beijing International Motor Show, the Japanese automaker unveiled the Everus concept, a HR-V-looking electric vehicle that signals Honda's entrance into a market dominated by the likes of Tesla.
Even though it is still a concept, the Everus looks like it's ready to roll out of the production line. Details are still scant and we barely know any information about the Everus, but looking at the photos showed the same size and proportions as the Honda HR-V. It even has the weird rear door handles that are placed at the C-pillar.
If this is how Honda's new EV will look like, it will definitely draw a lot of praise from enthusiasts and Honda fans. Unlike other concept cars that are too far off from the actual production unit, the Everus has a promising future to look like the concept. We can probably surmise that development of the EV is underway and near to being finalized since the Japanese carmaker claims it will start manufacturing the Everus later this year.
Of course, we can look at it from the business angle: Honda has just partnered with Chinese automaker GAC, so it's entirely plausible that the Japanese company is rushing the development of the first model of its EV line.
Considering the competitions we have in the EV market, it's not surprising that Honda is working fast to get the Everus out there. Not only will this be available to the Chinese market, Honda also plans to roll out the model through a car-sharing service offered by Reachstar, a Chinese company that specializes in providing car share services.
What we're sure is that this will welcome a new generation for Honda; a generation that will tap into the endless possibilities of a more electrified auto industry.