Daily Archives:
June 10, 2018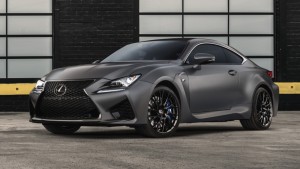 If you want limited editions vehicles, there will be a price to pay. If you want the anniversary editions of the Lexus RC F and GS F, the brand's sport-tuned and performance vehicles, you might have to sell a kidney… or two. Kidding aside, the F sub-brand is celebrating its 10th year anniversary since the debut of the IS F in 2008.
When the IS F debuted a decade ago, it was a direct competition to the tried and tested BMW M3. That was packing a V8 engine, but it was soon followed by the LFA, RC F coupe, and GS F sedan that are all powered by a V-10 machine.
The two anniversary editions are called the RC F and the GS F and there will only be 240 RC Fs in America and 100 GS Fs. That's how exclusive these two editions are going to be.
Both cars will be finished off with matte Nebula Grey paint, 19-inch black BBS wheels wrapped in Michelin Pilot Super Sport tires, and Brembo brakes with blue calipers. The RC F has blue leather seating with white accents up front and blue accents on the shift knob, steering wheel, and instrument panel cover.
On the other hand, the GS F also gets blue leather seating both for the front and rear passengers and driver. There are also blue carbon-fiber accents, blue suede on the dashboard, and blue seat belts. It will also have blue leather on the steering wheel, console, and shift knob.
Overall, the two cars will get that elegant black-and-blue combination that's a favorite for most sports and performance vehicles.
These two vehicles are still going to be powered by a naturally-aspirated 5.0-liter V8 engine that can produce 467 horsepower. That power is sent to the rear wheels through an eight-speed automatic transmission, and both cars will come with a torque vectoring differential.
These special edition models should arrive later this year.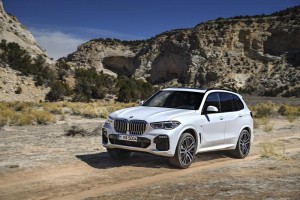 There's nothing more disheartening than finding out that the new 2019 BMW X5 you have been waiting for has a smaller trunk despite it being slightly bigger and having more legroom for passengers. Oh wait, perhaps that is the problem. When BMW decided to give more room for rear passengers, it ironically (and perhaps, questionably) decided that the best way to give that space is to take it from the cargo space.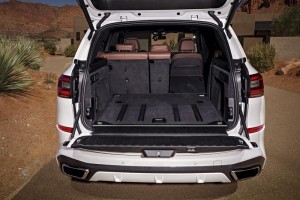 The new X5 is two inches longer and more than two inches wider than the previous generation, but the cargo capacity has somewhat been diminished to just 31.7 cubic feet with the rear seats up. That's down from the predecessor's 35.8 cubic feet capacity. Let's do that math: that's four cubic feet less or 11 percent less than the old X5.
There is no information about the cargo space when the rear seats are folded flat, but you can expect that number to drop, too, given that the overall cargo capacity shrunk. The outgoing BMW X5 can carry 76.7 cubic feet of luggage, which will drop to less than 70 cubic feet in the new X5.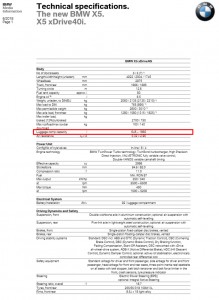 How did this happen? There's no exact explanation and BMW hasn't offered one just yet. The official specifications from the German automaker said that the new-generation X5's gasoline variant would have 31.7 cubic feet and this one has no battery or hybrid system that need space. And even if there's a hybrid or EV variant, the systems should not take that much space since batteries are usually stored beneath the floor.
It looks like BMW simply made the X5's trunk smaller to differentiate it from the upcoming X7, which is designed to have the largest trunk yet in the German brand's lineup. If that's the plan, then BMW has just lost its edge over the Audi Q7 and the Mercedes-Benz GLE, both of which the current generation X5 has trumped in terms of cargo space.