Daily Archives:
June 14, 2018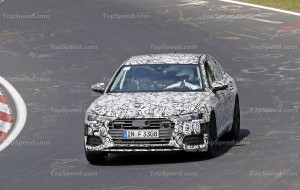 The 2019 Audi S6 will soon be unveiled and launched, but we already know a lot of details about it, particularly how it would be more aggressive in styling and it will have a more powerful drivetrain. The upcoming S6 is an important step for Audi towards dominating this segment that Mercedes-Benz and BMW are competing over.
1. Exterior
Based on the spy shots of TopSpeed, the most important exterior styling of the S6 is the new A8-style grille, whose wider element is highlighted by the sharper edges. The grille has three horizontal bars on the upper section, three in the middle section, and on the last section. It seems to us that the S6 is heavenly influenced by the A8—the headlamps are based on the A8 and it also has a more angular design.
The headlights, in particular, are slimmer and have a more angular and wider stance. Overall, the S6 has a sportier and more aggressive look than its predecessors.
2. Interior
The insides will be very similar to the A6, though this one on the S6 is headed by the all-new 12.3-inch diagonal display that replaced the traditional and analog dials on the dashboard. The display will provide information on speed and navigation. The other display in the dash will measure 10.1 inches and will include the latest MMI system with navigation. There's another screen below—an 8.6-inch screen that has access to climate system, text input, and many other things.
The S6 will also be roomier with improvements on rear-seat legroom, headroom, and shoulder room. The trunk space will be unchanged at 18.7 cubic feet.
3. Powertrain
The current S6 is powered by a 4.0-liter V-8, which is rated at 450 horsepower and 406 pound-feet of torque. However, Audi's decision to downsize some engines could impact the S6. This means that the V8 could possibly be replaced by a 2.9-liter V-6. That could crank out, at best, is 450 horses and 442 pound-feet of torque.
4. Pricing
The base model would likely be priced around $73,000 to $74,ooo, depending on the options chosen. In the United States, Volvo's current sedan is priced at $71,900.