Daily Archives:
June 15, 2018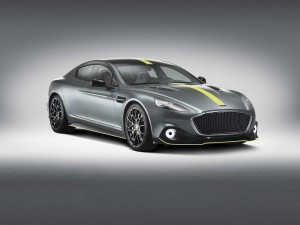 The Aston Martin Rapide just got the AMR treatment, making it the most extreme four-door sedan in the market since its introduction in 2010. The Aston Martin Rapide AMR was first displayed as a concept car at the 2017 Geneva Motor Show, but it is now produced with very few changes except that it gained extra horsepower.
Exterior
The production car is very similar to the concept car. There's the same aggressive front grille with its larger-than-usual sports black honeycomb design. The bumper was revised and now includes a big carbon-fiber piece at the bottom. As far as the shape and size go, the engine remains the same but it now has larger cooling vents and accent stripes.
On the sides, the standard wheels have been replaced by 21-inch rims, which are finished in black and has a multi-spoke design and large, green-painted brake calipers.
Interior
Based on the concept car, the Rapide AMR is wrapped in carbon fiber and Alcantara leather. This is a first for Rapide. The seats have been replaced with bucket seats with integrated headrests, and have subtle "AMR" logos and AMR Lime or Galena Silver contrast stitching and stripes.
There's a brand-new steering wheel, which is the same with the One-77 supercar. This is an option for the Rapide AMR. There are other features, including an AMR inspection plate and carbon-fiber door sills with "AMR" lettering.
Powertrain
The Rapide AMR just became the most powerful sedan in the Aston Martin lineup. The 6.0-liter V-12 engine can now produce 595 horsepower and 465 pound-feet of torque. The horsepower has an increase of 43 horses from the regular Rapide. The new AMR-treated Rapide also has larger inlet manifolds, which would benefit the need for enhanced airflow. The car can go 0 to 60 mph in just 4.2 seconds while top speed is at 203 to 205 mph.
Pricing
The Rapide AMR has a starting price of $240,000 in the U.S. That's a $32,000 premium from the regular sedan but given the comprehensive upgrades and treatments, that price update should be okay. There will only be 210 units built worldwide, but it won't be available to the Chinese and Russian market.