Daily Archives:
June 18, 2018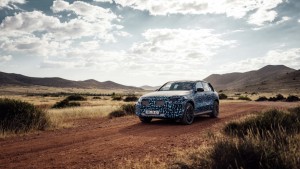 The Mercedes-Benz EQC is not having a time-off anytime soon. After enduring a harsh winter testing in Sweden, the standalone, all-electric sport utility vehicle is now being tested in the Iberian Peninsula. The test is to ensure that Mercedes is on schedule for the planned production of the unit.
According to the Global Media Site of Daimler, the EQC withstood its earlier winter testing under minus 35 degrees Celsius. This time, it is being evaluated in the very hot temperatures of the Iberian region that can go up to 50 degrees Celsius.
The rigorous summer testing aims to see the effects of extreme heat to the key components of the electric vehicle, particularly to its battery, air conditioning unit and control units. Those are in addition to the assessment of the effects of hot climate to the driving dynamics and interior comfort of the SUV.
Key Challenges Faced by the Mercedes-Benz EQC
One key challenge that Mercedes wishes to address is the cooling system of the EQC's battery pack. Under a very cold climate, the battery only loses some of its power. However, in extreme heat, the unit risks sustaining damage.
Aside from the cooling system, the luxury car maker also wants to know how the charging system of the auto will react to the scorching weather. The process will involve completely emptying the charge of the battery too in order to further assess the effects.
Next, the test will reveal if the indicated time for pre-climatization of the EQC's cabin is sufficient. The Mercedes engineers will pay special attention as well to the result of the punishing heat to the vehicle's air conditioning compressor.
Lastly, the summer trials will show where fine dust tends to build-up within the components of the EV.
Mercedes-Benz EQC Official Photos
The official photos of the Mercedes-Benz EQC show the EV wrapped in heavy camouflage, which hides its key styling features. Based on the photos, the production version of the SUV does not look so different from its concept version though.