Daily Archives:
July 15, 2018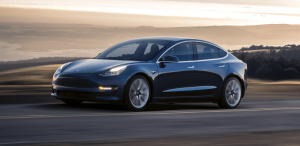 Tesla just unveiled new details about the performance variant of the Tesla Model 3. Tweets from both Tesla CEO Elon Musk and the company itself claimed that the fastest version of the compact sedan will offer BMW M3-beating speed and handling.
According to Musk, the Model 3 Performance will be "15% quicker & with better handling" than BMW's M3. It boasts that it can go from 0 to 60 mph in just 3.5 seconds and it has a top speed of 155 mph. The boldest claim from Tesla? The new Model 3 Performance will "beat anything in its class on the track."
The company has not released the official power output for the car yet, but the Model 3 will use a dual motor setup—one powering each axle and running individually from the other. This means that if the other motor breaks, the car would still be drivable, thanks to the other motor.
The claimed range is 310 miles, but it will be possible to have 170 miles more in 30 minutes, thanks to Tesla's Superchargers. Model S owners will get that for free, but Model 3 drivers would have to pay for that service.
On the outside, the Model 3 Performance will get the larger set of 20-inch wheels and they will house upgraded brakes. There's also a carbon fiber lip spoiler that will improve the car's rear downforce, but no official figures have been released yet.
Inside, the Model 3 Performance has a single 15-inch touchscreen that features live traffic updates and over-the-air updates. The seats are heated and they are trimmed in black and white leather. A panoramic glass roof will also come as standard.
The Model 3 Performance will have a starting price of $78,000, excluding the Autopilot system. production of the Model 3s will begin in 2019.