Daily Archives:
July 19, 2018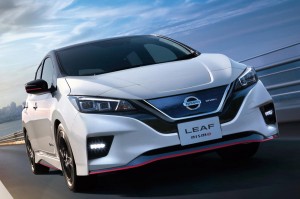 If you want a more powerful engine for your EV, you will be happy to know that the 2019 Nissan Leaf will get a new long-range version. Called the Leaf E-Plus, this model will have a larger battery that enables a more powerful motor with 200 horsepower.
Brian Maragano, Nissan's head of EV marketing and sales strategy, didn't mention the battery's capacity. Previous rumors and slip-ups from Nissan in 2016 and by a Swiss charging station builder indicated that the new battery will be a 60-kWh pack. That's a pretty huge step up from the 40 kWh battery that is in the current model.
With 200 horsepower, the new Nissan Leaf will be 53 horses more powerful than the standard 2018 Nissan Leaf.
But that's not all. Owners will also get to enjoy a longer range. Though Maragano did not give specific figures, we're expecting that the new 60-kWh battery pack can do beyond 200 miles on a single charge. If the figure is correct, that's a 74-mile jump from the current model's 151-mile range. During the My Nissan Leaf forum, posters have somehow hinted that the new long-range Leaf can have a 225-horsepower engine.
Once these numbers have been confirmed, it means that the new Nissan Leaf E-Plus will compete directly with the entry-level Tesla Model 3 and the Chevrolet Bolt. The Model 3 packs a 50-kWh battery that produces 197 horsepower and has a 220-mile range. The Bolt, on the other hand, has a decent rap sheet—60-kWh battery, 200 horsepower, and a 238-mile range.
Nissan decided to skip this year's Paris Motor Show, so we'll probably see the Leaf E-Plus during the LA Auto Show in November. The standard 2019  Leaf will be the first one to be introduced, followed by the E-Plus probably in early 2019.