Daily Archives:
July 20, 2018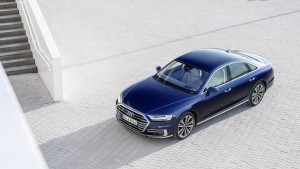 The last time we have seen the 2019 Audi A8 flagship luxury sedan was more than a year ago, so we're excited to get our hands on it this year. Audi revealed that the sedan will go on sale this fall with a starting price of $84,795.
To put it into perspective, that's $150 more than the base rear-drive BMW 7 Series and about $3,000 less than the all-wheel-drive version. It's also $6,000 less than the base rear-drive Mercedes S-Class.
If you think about it, the Audi A8 has quite a lot of value in terms of price. Its competitions from other countries are priced lower than it but once the taxes are measured and added, the amount could be staggering. The Lexus LS starts at under $80,000 while every version of the Cadillac CT6 is priced less than the Audi except for the CT6 Platinum, which is $85,290.
This base price refers to just one body style—the long wheelbase model. It is powered by a turbocharged 3.0-liter V6 that makes 335 horsepower and 369 pound-feet of torque. This is paired with an 8-speed automatic transmission and an all-wheel-drive system. This is the only available engine for the A8 for now. If you want more power, a V8 version is coming next year.
The American version of the A8 will have a number of high-tech optional features, particularly a suspension that can raise and lower each wheel preemptively to better handle bumps, four-wheel steering, and an adaptive cruise control that can handle acceleration, braking, and steering at low speeds.
The adaptive cruise control is a hands-on system. This is not the same as the Level 3 semi-autonomous technology that the company used when it previewed the car. Because of legal issues, Audi is not yet ready to offer that system in the US.