Daily Archives:
July 29, 2018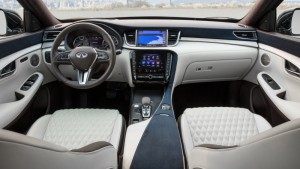 The 2019 Infiniti QX50 has wowed industry experts and automobile fans because of its variable combustion engine that changes the compression ratio to maximize power and fuel efficiency. The engine could also change between Atkinson and regular combustion cycles, use either a multi-point or direct injection, and features an electric motor that controls the variable compression ratio.
If you're not a fan of engines and grease and fuel efficiency, then maybe you might want to know how the QX50 will look inside? You won't be disappointed as Infiniti just announced its newest Autograph Package that will transform the cabin of the QX50 into something akin to a luxury beach resort, thanks to a mixture of the latest Pantone color trends.
According to Infiniti, the interior will start with warmer color tones as the rich chocolate brown replicates wood applications in a beach resort and the surrounding trees. The creamy off-white will represent the sand on the beach while the highlights of cooler dark navy blue on the center console will remind us of ocean water.
The "proper balance" between warm and cool colors will create a "comfortable, yet invigorating environment."
The cream, brown, and blue colors used in the package came from Pantone. The colors are called Coconut Milk, Emperador, and Sailor Blue, respectively. The Sailor Blue is applied to the center console, dash, and doors. The Emperador is seen on the steering wheel, leather-wrapped dash top and doors, the outer portions of the seats, and the lower door portions. Coconut Milk, on the other hand, is used on the dash color and the seat leather.
This is a special $2,000 option for the range-topping QX50 Essential trim level. Aside from the $2,000 Autograph Package, you would also have to pay $7,500 for the Sensory package and $550 for the ProAssist package, both of which are required. In total, you're looking at a price tag of $54,395 for the most fashionable car ever.