Daily Archives:
August 8, 2018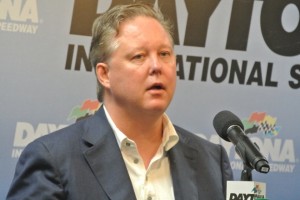 NASCAR's CEO and Chairman, Brian France, was arrested in New York on Sunday night for driving under the influence of alcohol and for drug possession of a controlled substance known as oxycodone.
France, a member of the famous France family for their involvement in the world of motorsports, took a leave of absence from NASCAR. He will be replaced in his role on an interim basis by Vice Chairman and Executive Vice President Jim France, Brian's uncle.
The 56-year-old was arrested on Sunday night and released on Monday morning after an arraignment. According to a police statement by the Sag Harbor Village on New York's Long Island, France "was operating a 2017 Lexus northbound on Main Street failing to stop at a duly posted stop sign." After he was pulled over by the police, they found that France was intoxicated and he was arrested.
"Upon search of his person, due to a lawful arrest, France was in possession of oxycodone pills." The report said that France's alcohol blood levels were more than twice the legal limit of 0.08. He also struggled to keep his balance during the sobriety test.
This was not the first time that France had a run-in with law enforcement due to his intoxication. In 2006, it was reported that France hit a car and a tree in a Daytona Beach parking lot. He was reckless and he struggled to get out of the car, witnesses back then said. However, he wasn't given a DUI because officers were not able to confront France until he had returned to his house and was no longer driving.
France became CEO of NASCAR in 2003. His grandfather, William HG France founded the organization in 1948 while his father, Bill Jr., served as CEO until he stepped down in 2000.
In a statement, NASCAR said that it is aware of the incident and is currently gathering information. "We take this as a serious matter and will issue a statement after we have all of the facts."
NASCAR's substance abuse policy states that: "[The organization] prohibits the misuse of alcohol, prescription drugs, and any other substance used in a manner that affects safety or impacts the integrity of the competition, including – but not limited to –illegal or performance-enhancing substances."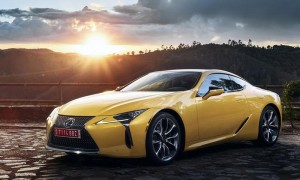 The Lexus LC 500, even without the exclusive additions, is already a powerful and beautiful car. It slots between a capable touring car and an everyday supercar. But though the LC 500 has its own identity, that didn't stop the brand from treating it with more features.
Exterior
The color outside is, of course, an eye-catching vibrant Flare Yellow. It is really just yellow on the surface with a hint of a mango-like color to it, too. Lexus also fitted this special edition with extra aero bits like the carbon-fiber-reinforced plastic rear spoiler. This helps in the LC's stability, especially when it is going at high speeds. Completing the whole look is a set of 21-inch forged alloy wheels.
Interior
The cabin is slathered with yellow color. The interior is wrapped in a generous amount of semi-Aniline leather and Alcantara in colors black, white, and warm yellow. The color schemes used are less vibrant than the exterior, but they are still effective in providing the luxury touch that Lexus is known for. Most of the times, Toyota's luxury brand could not compete with its European counterpart but when it comes with special edition models like this one, Lexus could battle with the best.
The 10-way power-adjustable front seats are dressed in semi-aniline leather while the headlining above is all wrapped in Alcantara. Between these, there are yellow Alcantara inserts in the door panels and warm yellow contrast stitching on the white leather seats, instrument panel, steering wheel, and center console armrest.
Powertrain
The Yellow Edition is available either in LC 500 or LC 500h. The LC 500 is powered by 5.0-liter, naturally aspirated, V-8 that produces 471 horsepower and 398 pound-feet of torque. It can go from 0 to 60 mph in 4.4 seconds, and it has a top speed of 168 mph.
The LC 500h uses a 3.5-liter V-6 engine that combines with a pair of electric motors and a lithium-ion battery. It can produce 354 horsepower, enough to go from 0 to 62 mph in just 4.7 seconds. It has a top speed of 155 mph.
As a pure-bred Lexus special edition, the Yellow Edition has Dynamic Handling and Variable Gear Ratio Steering (VGRS). The system allows four-wheel steering, enabling the driver to independently control the front- and rear-wheel-steering angles.