Daily Archives:
August 27, 2018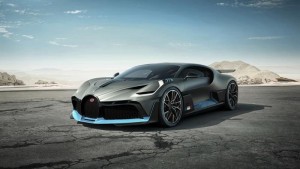 Bugatti has finally revealed the Divo and just like that, we can say with absolute certainty that this is a redesigned and more powerful Chiron. It looks exactly like the Chiron except that the Divo has a meaner face, more muscular front hood, corner-mounted headlights, aggressive side skirts, and 1,500 insane horsepower.
The muscular body of the Bugatti Divo was intended for a number of crazy aerodynamic features such as its 1,005 pounds of downforce. That's 198 pounds more than the standard model. To do this, Bugatti has to make the rear spoiler 23-percent wider than the standard Chiron.
Under the hood, the Divo has an 8.0-liter W-16 unit that can deliver a coldhearted 1,500 horsepower. That's 30 more than the Chiron. Pair that up with the Divo's new aerodynamics setting, then that would mean a capacity to generate a lateral acceleration of 1.6 g once you put the pedal to the metal. The top speed would be 236 mph, 25 mph slower than the Chiron's maximum speed of 261 mph. That's primarily because Bugatti made the Divo for better handling and agility around the corners.
Even with less the top speed of the Chiron, the Divo is reportedly "eight seconds faster about the Nardo handling circuit". We're assuming the figure is compared to the standard Chiron and not the Chiron Sport.
Stephen Winkelmann, president of Bugatti, explained that the modern Bugatti is known for hitting the perfect balance between "high performance, straight-line dynamics, and luxurious comfort." The Divo wants to change that as it focuses on "lateral acceleration, agility, and cornering." Simply put, the Divo "is made for corners."
Inside, the brand wants something different for the Divo. It has a funky, two-tone color scheme that includes a bright colored Alcantara on the driver's side and a tone-down grey-black Alcantara on the passenger side.
There will only be 40 units of the Divo. Each of those 40 units has already been reserved for a whopping €5 million ($5.8 million).