Daily Archives:
September 9, 2018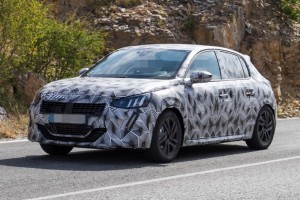 The all-new Peugeot 208 supermini was spied for the first time on the road. The completely revised model now has sharper looks and an all-electric model that could rival the Ford Fiesta and the Volkswagen Polo.
There are very few key details that we can glean from the spy shots as the car was heavily camouflaged. There are at least three features we can be sure of now: the car will have a set of bold Lion-claw headlights, it will have a sleek rear end, and it will have a five-door body, confirming speculations that the three-door body of the current GTi models will be dropped for the supermini's second generation.
The car takes its cues from the newer 3008 and the 5008 SUVs in terms of an upright grille and U-shaped lower air intake that gives it a rather distinctive nose. For a sportier look, the roofline tapers to the back and the rear has a small boot spoiler and a bumper-mounted number plate. The DRL signature up front is replicated at the back that now sports a full-LED setup and based on the dual exhaust tips, the photographed model looks to be the GT-Line variant.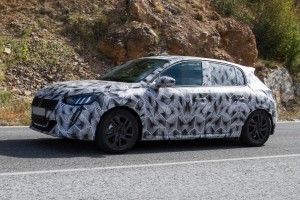 There's a variety of small-capacity turbo petrol engines for the powertrain options. There's also a new full-electric-vehicle for the first time. Peugeot's electric powertrains are suited for small cars, but not for large cars just yet, Peugeot 3008 project manager Marion David said earlier.
To achieve this, the French brand is going to use the new Common Modular Platform (CMP) technology on the 208. The platform will allow the supermini to support batteries and motors for all-electric models. It will offset some of the weight that would be added by the battery packs in these cars.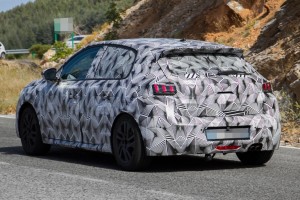 The petrol engines offered could be three-cylinder turbos with power from 70 horsepower to nearly 150 horsepower for the 1.2-liter version. There's no information available if Peugeot will offer diesel engines in its next-generation superminis.
The new 208 will likely make its first public debut at the Geneva Motor Show in the spring of 2019.