Daily Archives:
September 18, 2018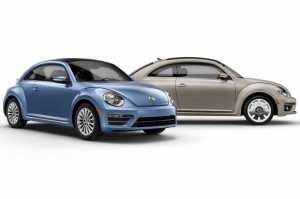 Before the Volkswagen Beetle bids goodbye next year, it introduces two Final Edition models—a coupe and a convertible. These two models will mark the last year of the Beetle's production in 2019.
It has been a long time since Volkswagen revealed the New Beetle and was named the 1999 Import Car of the Year by Motor Trend. In 2012, the Beetle was redesigned that helped reignite sales. But alas, the entrance of the crossover segment ended the blooming re-interest on the retro-styled coupe.
The Final Edition packages are modeled after the 2003 Ultima Edicion. They are going to be offered with a beige or a light blue paint, as well as a few other colors. The convertibles will get their own brown top, except for the beige convertibles, which will get their tops in another color. Other changes on the exterior are a few chrome trim, body-color side-view mirrors, a rear "Beetle" badge, and unique wheels.
Inside, the Final Edition Beetle gets a leather-wrapped steering wheel, stainless steel pedals, a beige dash, and special upholstery. If you want better features, you can upgrade from the base SE model to the SEL version, which gets Xenon headlights, LED taillights, larger wheels, diamond-stitched leather seats, navigation, and a premium audio system.
Hinrich Woebcken, Volkswagen's North American President and CEO, said in a statement that after nearly seven decades in the market, the end of production for the Beetle will "evoke a host of emotions from [its] many devoted fans."
The German automaker will move toward a more full-line, family-oriented cars in the United States. It will also ramp up its electrification strategy with the use of the MEB platform. Woebcken hinted, though, of the possibility of the Beetle's revival but as an electric car.
The Final Edition packages will start at $23,940, including destination. The SEL version will add another $2,950. The convertible variant will start at $28,190 or $30,890 if you want the SEL version.