Daily Archives:
September 28, 2018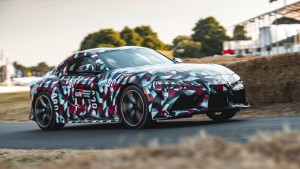 The long journey of the 2019 Toyota Supra from concept to production is nearing its end and with it comes the possibility that the car will arrive with an option for manual transmission.
At least, that's what Supra project head Masayuki Kai told Road and Track during a conversation. But if you want this to happen, you have to let Toyota hear your voices. The only way the manual gearbox will be available for the Supra is if Toyota sees the market demand. The possibility of a Supra with manual transmission is entirely dependent on the reaction to the car, specifically the standard version that has an eight-speed automatic transmission.
The fact that Toyota has already developed the hardware is even more exciting news but you have to hold your breath because the Japanese carmaker said that the currently available hardware is for the right-hand drive market. It's not clear whether Mr. Kai means that it will only be available for the right-hand drive market or it will be an option also for other markets like the United States.
Supra project's chief engineer also hinted that the production of a manual-transmission Supra must fall within financial reasons, meaning that it's expensive for Toyota to produce this mechanism for the masses. If it is offered, it might only come as a special edition of 100 units, so the company can spend less in "tooling."
Right now, what we know about the Supra is that it will be powered by a 3.0-liter turbocharged straight-six engine that makes more than 300 horsepower and 300 pound-feet of torque (there's no exact figure from Toyota yet). If Toyota wants to increase the power and compete with others in the segment, an insider told Top Speed that the Toyota Supra can accommodate up to 500 horsepower.