Daily Archives:
October 20, 2018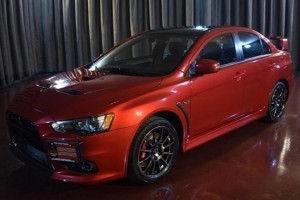 The first ever Final Edition model of the 2015 Mitsubishi Lancer Evolution with a US0001 serial number is still up for grabs. Only 1,600 units of the car were created, so this surely is a good catch for collectors.
According to Road & Track, the same Evo was auctioned in late 2015. The car was brought by the Brooklyn Mitsubishi dealership. The price of the car was only $46,200, and the proceeds of the sale all went to charity.
The report said the last Evo was sold on eBay back in 2016. Therefore, private sellers of the car are already hard to come by. However, the first Evo Final Edition model remains with Brooklyn Mitsubishi, for those who are interested.
It remains unsold after their acquisition of the auto from the auction, and it was recently spotted on Autotrader being sold for $47,888. What perplexes us though is that Brooklyn Mitsubishi listed the Evo with an $87,888 price tag. We reached the dealership for clarification but they haven't responded to the query yet.
Highlights of the 2015 Mitsubishi Lancer Evolution Final Edition (US0001)
Looking at the photos of the Evo on sale, it still appears new and the plastic covers on its upholstery can be seen in its cabin. All the stickers, badges and plaque are intact as well.
The car is powered by a 2.0-liter turbocharged four-cylinder engine with 303 hp and 305 lb-ft of torque. Meanwhile, its clock indicated that it only ran 35 miles.