Daily Archives:
October 21, 2018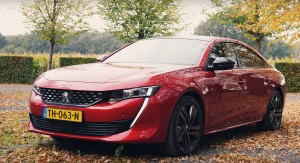 The 2019 Peugeot 508 GT may not be winning any races when pitted against other cars along the 225 hp bracket but its sexy look makes up for its dismal performance.
The new 508 GT carries a 1.6-liter turbocharged engine. The unit produces 225 hp and it is paired to an eight-speed automatic transmission. The setup propels the car from 0 to 62 mph in 7.4 seconds.
0-62 mph Run is More Than 8 Seconds
The numbers of the 508 GT definitely look promising on paper but the testing done by the Dutch publication AutoTopNL seems to disagree with the official figures. When the source took the car for a test drive, it was discovered that its 0 to 62 mph acceleration actually goes more than 8 seconds.
For its €45,600 starting price in Germany, the 508 GT's performance certainly looks bad compared to other 255 hp cars and other GT-badged vehicles. The slow sprint of the auto was attributed to its transmission. There appeared to be lags in between its shifts.
Examining the Peugeot 508 GT's Styling
Nevertheless, the attractive design of the 508 GT is its selling point. The body of the car features clean surfaces with beautifully sculpted corners, which are almost free of creases. In addition, the chequered look of the front grille, narrow headlamps with fangs and wide single vent below the front bumper provide a luxurious and sporty combination to the vehicle. Meanwhile, going to the rear shows an amazing layout of its taillights, which is reminiscent of Audi's styling.
The interior of the 508 GT is a stand out too. The small steering wheel, digital displays, and aluminum accents on the dashboard and panels are visually stimulating. Lastly, its seats are covered in high-end leather with premium stitching.
Overall, the Peugeot 508 GT presents an ideal choice for customers who have more preference in aesthetics over performance.