Daily Archives:
October 28, 2018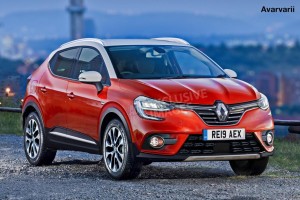 French automaker Renault is getting ready to introduce its first plug-in hybrid vehicle, the high-tech Captur crossover, in 2020.
The second-generation Renault Captur has big shoes to fill. The first-generation model, which was launched in 2013, has been Renault's third best-seller globally, with 232,733 units sold last year alone. And since this will be Renault's first foray into plug-in hybrid cars, the Captur must set the example for the next cars in the company's lineup.
Renault will be using the tech introduced by its boss, Carlos Ghosn, during the Paris Motor Show early this month. It's an all-new plug-in hybrid setup that will make use of the Nissan-developed 1.6-liter naturally aspirated four-cylinder petrol engine and an electric drive system. The electric system will be tasked to provide the petrol engine with additional torque and power plus an additional 30 miles of all-electric drive.
The power for the electric drive will be supplied by a 9.8kWh battery but there have been no details of the power specs yet from the petrol engine.
This same technology will be used in the Renault-Nissan-Mitsubishi Alliance. After the Captur gets unveiled at the Frankfurt Motor Show next year, it will be the next-generation Nissan Qashqai's turn. It will get the same plug-in hybrid system.
The technology, however, won't be available on Renault's supermini and biggest seller, the Clio. Instead, the fifth-generation Clio, which is scheduled to be revealed at the Geneva Motor Show in March 2019, will come with a conventional closed hybrid setup that doesn't require plugging in. Upcoming electrified Renault vehicles will be badged as e-Tech models.
As for its design, the Captur's profile, shape, and signature grille will remain the same. Every panel will be slightly different, however, and there will surely be new headlights and tail lamps. The cabin will have Renault's latest dashboard layout—a portrait-style touchscreen infotainment unit smacked in the middle. There is an expected increase in cabin space, too, since the French company plans to stretch out the Alliance B platform.
Photo Source: Auto Express