Daily Archives:
November 1, 2018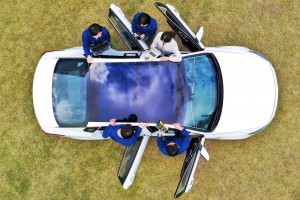 In a bid to increase the fuel efficiency, range, and reduce carbon dioxide emissions, future Hyundai and Kia e-vehicles will have solar panels for roofs, Hyundai Motor Group said on Wednesday.
The solar panels will be featured in the rooftops or the hoods of selected vehicles "after 2019." It aims to supplement the power produced by traditional internal combustion, hybrid, and battery-electric vehicles. Hyundai, Kia's parent company, said it is currently developing three different types of solar roof charging systems comprised of solar panel, controller, and battery.
The first-generation solar roof charging system is a silicon solar panel system installed in the rooftops of hybrid models. It will be capable of charging 30 to 60 percent of the battery each day, depending on weather conditions and other factors. This will start as early as 2020, the company said.
The second-generation is a semi-transparent solar roof system that will be applied on the panoramic sunroof. It will be capable of charging an electric vehicle's battery or a battery mounted on a gasoline engine. Why the focus on batteries for gasoline-engined cars? Hyundai said it will help increase vehicle exports because solar-equipped ICE vehicles will be able to follow regulations that limit CO2 emissions.
The third-generation system is the one being tested right now. It will add solar production capability by mounting the panels in the roof and hood of EVs. Both companies have yet to provide details about this system.
Jeong-Gil Park, executive vice president of engineering design at Hyundai Motor Group, said that the move will transform vehicles from a passive device that consumes energy to a solution that actually generates energy.
"The paradigm of the vehicle owner will shift from that of a consumer to an energy prosumer," he added.
Solar vehicle charging technology has mostly been confined within the boundaries of cooling off the interior or trickle-charging a conventional battery. Hyundai's and Kia's plans have yet to be put to test, so let's wait and see what's in store for us in the next couple of years.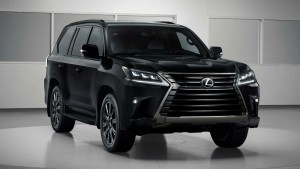 A new Inspiration model from Lexus is about to be unveiled at next month's 2018 Los Angeles Auto Show, which will start on November 26.
The Lexus LX Inspiration Series is based on the 2019 LX and this latest in special-edition Lexuses will feature an exterior of deep black paint finish with 21-inch wheels wrapped in gloss black tires. To finish off that glossy and sinister look. The LX Inspiration Series also comes with a black front grille and dark chrome surround.
The all-black surround is capped with black trim for the headlamps, foglights, and windows along with smoked headlamp lenses. This full-sized three-row SUV will have a black theme for the rear, too, thanks to black chrome accents for the taillights and license plate holder.
Inside, the SUV is wrapped in luxury materials. While there is a black headliner, the leather trim and the seats are colored in a luxurious pearly white. Standard to the SUV are color head-up display, the rear-seat entertainment package, the 19-speaker Mark Levinson audio system, and Lexus' Climate Concierge feature. The latter can monitor the temperature of the four separate climate zones. It can adjust the fans and the temperature of the seats and steering wheel.
The LX Inspiration Series will feature with a 5.7-liter V-8 engine that produces 383 horsepower and 403 pound-feet of torque. This engine is paired with an eight-speed automatic and four-wheel-drive system that can tow up to a total of 7,000 pounds.
There will be just 500 examples of the LX Inspiration Series and it will be built as a 2019 model. Pricing will surely start at over $100,000, so ready your wallets. But if coupes are more your thing, Lexus is planning an LC Inspiration Series that is expected to debut later this year after a preview of the concept back in August.