Daily Archives:
November 29, 2018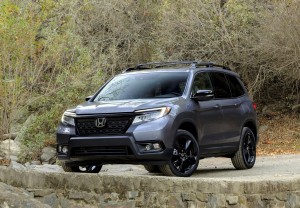 Honda said that its all-new Passport, which is on the clock for an early 2020 release, is a do-it-all SUV. Sandwiched between the CR-V and the range-topping Pilot, the Honda Passport has enough space inside for the family but also has the power to be an off-roader.
Honda has yet to give specifics on the trim levels, though it said that the SUV will be available in four trim levels, including the range-topping Elite trim. Pricing will be announced once the launch date is near. It should be cheaper than the top-level Pilot, which starts at $31,450.
1. The Passport Produces 280 Horsepower
The only SUV in its segment more powerful than the upcoming Passport SUV is the 290-horsepower Jeep Grand Cherokee. The Passport has a 3.5-liter V-6 engine that makes 280 horsepower and 262 pound-feet of torque. It is more powerful than the 240-horsepower Ford Edge, the 260-horsepower Nissan Murano, and the 270-horsepower Toyota 4Runner.
That V-6 engine is paired with Honda's nine-speed automatic transmission and a front-wheel-drive system with an optional all-wheel drive with i-VTM4 torque vectoring on all trims. With the torque vectoring, the Passport improves its off-road capabilities.
2. The Passport Can Tow 3,500 Pounds
Honda boasts that the Passport can tow an impressive 3,500 pounds. That's double the capacity of the Ford Edge and the Nissan Murano. The Passport's towing capacity is comparable only to the Grand Cherokee, which is being considered more of the higher-end Pilot's competitor even in terms of power output.
The only SUV in its class with a higher towing capacity is the Toyota 4Runner, which can tow a whopping 5,000 pounds. But with the option of the four-wheel drive, the Passport can easily tow 5,000 pounds, too.
3. The Passport Has An Elegant Interior
Don't think of the Passport as purely utilitarian. It has the same fancy interior as other SUVs. The dashboard layout is pristine and Honda's new digital infotainment system comes standard from the EXL trims and above. It has an eight-inch touchscreen that controls a number of tech features, including Apple CarPlay and Android Auto.