Monthly Archives:
December 2018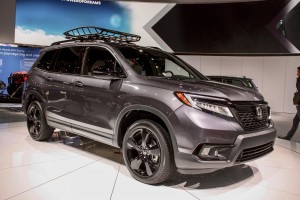 In 2002, Japanese carmaker Honda decided to discontinue the Passport but it made a return at the 2018 Los Angeles Auto Show. The Honda Passport will fill the gap between the CR-V and the Pilot.
The best thing about the current Passport is it was designed exclusively by Honda and it won't be a rebadged Isuzu like the former model. Based on Honda's Global Light Truck platform, the new Passport shares the same body construction, underpinnings, and drivetrain components with the three-row Pilot and the Ridgeline pickup trucks.
Exterior
The Honda Passport stands out from the rest of the Japanese carmaker's smaller SUVs, but it did borrow design elements from the bigger Pilot such as the headlamps and the small turn signals. Honda thankfully made an effort for the Passport to stand out by gifting it with a mesh with small, oval outlets and black trim at the top for its grille. This gives the crossover a more rugged look that fits its outdoor-type personality.
The Passport can also be set apart by the number of accessories Honda is offering it with such as roof boxes of various sizes, a roof basket, and a roof-mounted bike, kayak, and ski or snowboard racks.
Interior
Inside, the Passport offers the roomiest space for passengers at 115.9 cubic feet. The total interior volume is 157.1 cubic feet plus a large, 2.5-cubic-foot segmented underfloor cargo compartment to carry your dirty gear or to keep valuables out of sight. The trunk has a total of 41.2 cubic feet of luggage room, too.
The Passport's dashboard looks exactly like the Pilot's with the infotainment system sitting between the rectangular AC vents and the rest of the center stack wrapped in black trim that extends to the passenger side and the steering wheel.
Drivetrain
Again, the Passport and the Pilot share the same platform and the same engine. The Passport arrives with a 3.5-liter V-6 that makes the same 280 horsepower and 262 pound-feet of torque. This placed the Passport above most of its competitors (the Subaru Forester and the Nissan Murano). The V-6 engine is paired with Honda's nine-speed automatic transmission. As standard, the Passport has a two-wheel drive system but you can choose an all-wheel drive.