Daily Archives:
December 4, 2018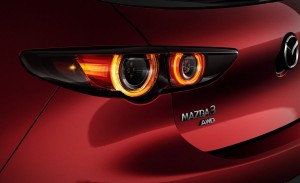 There are plenty of things we need to be excited about the new 2019 Mazda 3 since there are significant changes both in the exterior and the interior of the car. But there's one thing that Mazda's North American senior director of design Julien Montousse wants us to focus on: the new Mazda 3 is using a new typeface called the Mazda Type.
The new font face will represent the brand from this point forward. We expect it to be used on every new car that'll come out of Mazda's factories though an "Sg" badge for Signature trim levels on certain models that haven't made the font switch yet will also be available.
Montousse described the new font as being more vertical than the old Mazda font, an italicized typeface called Mazda Font. The new font is used on the Mazda 3's trunk lid badges, as well as on some interior bits like the floor mats. The displays and controls will use a different font because they have to follow certain regulations, Montousse said.
Internally, Mazda has already started using the new font for all its company memos and communications. This is a part of the Japanese automaker's bid to portray itself as a premium and upscale brand. Montousse said that design team took a lot of time and poured their thoughts over the creation of the new font.
The plan is to roll out Mazda Type to various Mazda models as they receive updates. We can expect future models and updates to carry this new font.
Mazda isn't the first auto company to create an entirely new font. Volkswagen also introduced a new typeface that we now know as the Volkswagen Text. All automakers have their own distinctive and recognizable font for badges, logos, and marketing materials. You may even download these fonts from the internet.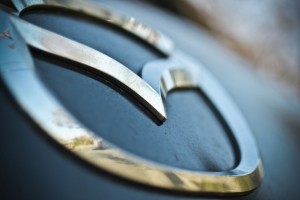 Mazda is gearing up for the launch of its first all-electric car, which is due in 2020. Although the car won't look dramatically different from all of the current Mazda models, the Japanese company said that the coming all-electric car will be a standalone model and it won't be a part of its collaboration with fellow Japanese automaker Toyota.
Apparently, Mazda has been working on this EV even before its tie-up with Toyota was finalized. Ironically, the partnership created by these two giants in the auto industry is to jointly develop EVs.
Because this will be a standalone model, Mazda's first EV will not simply be an electric version of an already existing model. Other than this little but all-important tidbit, we don't have any information about what kind of configuration or exterior detailing this first Mazda EV will arrive with.
When it comes to its body style, we can do a bit of imagining and rendering. There's no reason why Mazda will divert from what it has seemingly specialized in the past—a high-riding crossover. This will effectively take advantage of the popularity of this segment right now. Aside from that, taller vehicles will allow more space for the easier packaging of the battery modules while still maintaining good cabin size for the passengers.
Mazda, however, has always been a carmaker that sets the trends rather than the one that follows them. This means the first EV might not be a crossover or an SUV. It may be like just another model off Mazda's factories, albeit with a battery pack.
According to a report from Autocar, Ikuo Maeda, Mazda's design chief, doesn't want the upcoming EV "to look digital" while its European design boss said they "don't want to make an EV to look like a fridge like some other car makers." This means the new EV will not stick out like a sore thumb and it will be styled like all the other cars in the Mazda range.
Want a bit more to imagine? Mazda's design language can be seen in its latest iteration of the Mazda 3 hatch and sedan. If the new EV will look anything like the Mazda 3, then our expectations have just been boosted.