Monthly Archives:
December 2018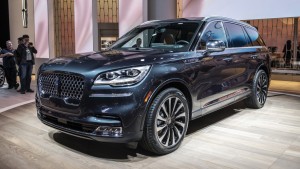 The 2020 Lincoln Aviator crossover is merciless to its competitors. Finally revealed in its production form following its concept debut at the New York Auto Show earlier this year, the new crossover has a whopping 400 horsepower as standard while even more power is promised for its plug-in hybrid powertrain.
Once launched, the Lincoln Aviator will be available in two engines, both of which are twin-turbocharged 3.0-liter V6s though one will arrive with a plug-in hybrid. The standard engine will produce an impressive 400 horsepower and 400 pound-feet of torque. That's 40 horses more than the top-rung six-cylinder Mercedes-Benz GLE 450 and about 65 horsepower more than the entry-level six-cylinder BMW X5 xDrive40i.
The hybrid powertrain brings the Aviator to 450 horsepower and a staggering 600 pound-feet of torque. That's six horsepower away from the V8-powered BMW X5 xDrive50i but 121 more in terms of torque.
Typical to many plug-in hybrid powertrains, the one in the Aviator crossover can run the vehicle in pure electric mode or hold the charge to be deployed at a more opportunistic time such as driving on the highway. Lincoln hasn't released figures for its pure electric range. There are no details about fuel efficiency, too.
The layout of the standard engine and the hybrid system is pretty radical. Lincoln said the battery for the plug-in hybrid powertrain fits nicely under the passenger side of the vehicle between the front and rear wheels while the motor is placed between the engine and the transmission.
This layout is partly why all versions of the Aviator will use the same 10-speed automatic transmission, which is gradually being used in the Ford family. From there, power will be distributed to either the rear wheels or through an optional all-wheel-drive system. Lincoln also said that this is a modular hybrid system, so it will be used in other Lincoln and Ford products in the future.