2019 Aston Martin DB11 Classic Driver Edition is Just Too Cool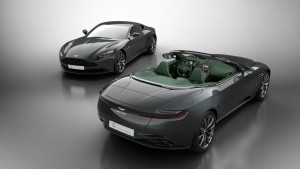 The 2019 Aston Martin DB11 Classic Driver Edition, a special edition model made for the 20th anniversary of the exclusive website Classic Driver, takes on a color scheme that resembles a lot like the American dollar. And why shouldn't it be wrapped in green and gray? The special edition Aston Martin DB11 screams money and yes, only the ultra-rich would have the rights to own one.
The Classic Driver edition is probably the best bespoke creation made by Q by Aston Martin, the brand's personalization program. The vehicle was made for Classic Driver, considered to be the world's first website solely for the sophisticated car collectors and auto enthusiasts. There will only be 20 units of the Classic Driver Edition, and they can be had by long-time members of the Classic Driver community.
The body paint for the car is inspired by the Classic Driver's green and grey colorway, as well as Aston's Charcoal Grey finish that became famous back in the 60s. The color scheme is called Classic Driver Grey and it looks like a deep, glossy dark grey paint with fine and subtle pearls thrown in. When sunlight hits the color, it turns into a surprising green shade.
There will be no two models with the exact same shade of this colorway because the Aston Martin DB11 Classic Driver Editions are color sprayed by hand. To finish off the exterior look, the Classic Driver Edition comes also with a discrete carbon fiber body pack that is finished with a bespoke satin Eiffel Green lacquer.
The interior is an all-green interior that should look wrong but somehow was able to pull it off. Majority of the cabin is wrapped in the exclusive Eiffel Green Caithness leather, which is a rich shade of green leather. There's an embroidered Parliament Green Classic Driver logo on the headrests. The finished product? Magical and almost untrue in its elegance.
Each unit will come with a 4.0-liter bi-turbo V-8 engine that produces 496 horsepower and 498 pound-feet of torque.
The standard DB11 already has a price tag of $208,000, so the special edition will certainly go north of that.