2019 BMW 8 Series Convertible Images Leaked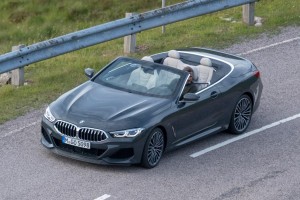 The new 2019 BMW 8 Series Convertible isn't due for a reveal until the middle of next year, but we're lucky enough to see its spy shots. The car was without its camouflage and was being driven around Loch Assynt in Scotland. Clearly, this was a secret photoshoot that would be used for marketing purposes later.
Regardless, we love to see the BMW 8 Series Convertible in all its glory. The drop-top version has a large kidney grille, chiseled front bumper, and slim LED headlamps similar with the coupe version revealed at the Le Mans 24 Hours endurance race last month. At the back, the wide taillights and gaping chrome exhausts also remain. All these point out to one thing: the model we see here is the range-topping M850i.
The model will be using a fabric roof to save on weight, which is essential because of the extra weight that comes from strengthening the flanks to make up for the "reduced structural integrity" due to the loss of the fixed roof. Overall, this drop-top version will weigh around 2,000kg.
The engine lineup will be similar with the coupe. The base model BMW 8 Series Convertible would be a 3.0-liter six-cylinder diesel motor that can make 320 horsepower. The range-topping M850i variants will get a 4.4-liter twin-turbo V8 engine that produces 530 horsepower and can go 0 to 62mph in 4 seconds. That is slightly higher than the coupe's 3.7 seconds because the convertible is on the heavier side.
All of the models will use BMW's xDrive four-wheel-drive system, as well as an eight-speed automatic transmission. The M850i will also have an active rear-wheel steering, a sports exhaust, and a limited-slip differential on the rear axle.
Before the 8 Series Convertible makes it full debut, however, the German automaker will first unleash the all-new 3 Series Saloon, the Z4 roadster, and the X7 SUV.
Photos by: Iain Pollo via AutoExpress