2019 BMW i3 Comes With A 153-Mile Range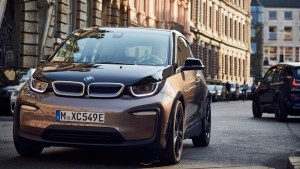 The 2019 BMW i3, which is starting its production in November, will come with a 153-mile range, thanks to its bigger battery that features a 42.2-kWh capacity. This is the second time that the German brand upgraded the i3's battery since it was launched in 2014.
The last time the i3's battery was updated was in 2017 when a 33-kWh battery was added to bump the range electric car's range to 115 miles. This upcoming update will mark a 30-percent improvement over the previous 94-Ah battery (that makes 115 miles). The first battery that the i3 came with it in 2014 only offers a range of 81 miles.
The 42.2-kWh battery is set to be the standard across the range, meaning that the i3 REX range-extended model might see a similar boost in its range and output. BMW didn't say how much range should be expected, though we expect the same improvement. According to a recent study by the EPA, the most recent iteration of the range extender added 66 miles of range. If you add that to the new battery's estimated range, it means we're looking at a 2019 range extender that can drive as far as 219 miles.
The sportier i3 will also use the same battery pack. The standard i3 will be powered by an electric motor that produces 170 horsepower, just enough to get this electric car to 60 mph in just 7.2 seconds. In the sportier trim, the electric motor provides 181 horsepower and can sprint to 60 mph in 6.8 seconds.
There are other updated to the 2019 BMW i3 aside from the battery. There will be a new exterior color called the Jucaro beige metallic and the Mega World trim now gets an optional interior package that is lined with brown trim, grey vinyl, and brown cloth. Other features are LED headlights with cornering lights and automatic high beams, BMW's iDrive 6.0 infotainment system, a WiFi hotspot, and wireless charging tray.
There is no information yet on the release date of the new i3. The pricing should also be announced closer to the actual on-sale date.