2019 BMW X7 Pre-production Begins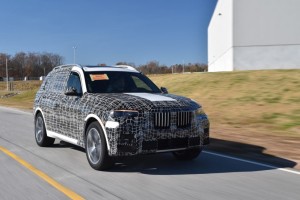 The pre-production models of the 2019 BMW X7 Sports Activity Vehicles are now being rolled out. The units are being made at the Spartanburg plant of the automaker in South Carolina, USA.
According to BMW Blog, the unveiling of the new BMW X7 is scheduled at the end of 2018. With that said, the auto will bear a 2019 model year.
The X7 is BMW's largest SUV so far. All we have are the photos of the vehicle's camouflaged pre-production version. The wrap comes in a crisscrossing black and white striped pattern which completely creates an optical illusion hiding the body lines of the auto. However, the exposed areas indicate that it will not have the same large windows shown in its concept form. Then, the sunroof appears to stretch from the first and second row seats of the unit while the rear takes a separate glass top. The X7's production version is expected to carry over the same dual kidney chrome radiator grille and thin headlamps found in its concept version unveiled at the 2017 Frankfurt Auto Show in Germany.
The X7 will be assembled on the same facility that produces the X5 and X6 SUVs of BMW. There are no details yet about the unit's pricing and mechanical specs.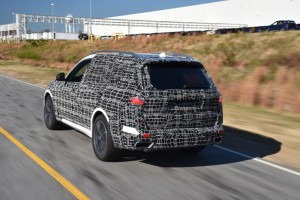 It should be noted though that the auto is still subject to minor changes on its way to its production version. What we have here is merely a pre-production model and it does not reflect the final version of the SUV, which will be rolled out to customers.
When we say "pre-production vehicles", it means these are products made after their prototypes or development mules, which are preceded by their concept versions. These are subject for thorough testing in order to find faults before the public sale of the new model commences.