2019 Honda Jazz Hybrid Is Going To Look Like A Mini SUV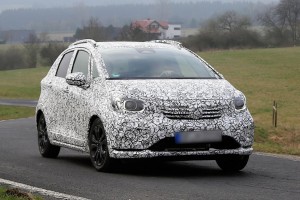 Big changes in the auto industry—both on how cars look and perform now—prompted Honda to give its much-loved small car lineup a needed boost. Everything will start with the best-selling Honda Jazz, which will get a hybrid engine and a more rugged and aggressive look.
This fourth-generation Jazz will be revealed when the model takes center stage at the Tokyo Motor Show in October. Although Honda plans to electrify its range, the new Jazz will still be hybrid only.
The Jazz has always been known for its upright MPV-like appearance, but it looks like that's about to change. The new Jazz shall give mini SUVs a run for their money since it will look like a shortened version of a sports utility vehicle. Think SEAT Arona and Citroen C3 Aircross. That's how the Jazz is going to look like.
This means that the front end will have larger and bolder headlamp units and grille, a front bumper finished in black around the lower edges, roof rails as standard, and wheel arch cladding covered in dark trim.
Around the back, the taillights now support horizontal units that sit just below the rear window. The hatch will cut deep into the back bumper, which is the same with previous models. This design intends to allow Jazz owners to load heavier and bulkier items into the car.
Overall, the Jazz will measure four meters long, the same as other conventional superminis in the market. It's not too far off from the current model.
However, the new Jazz is going to use a new platform, too. This architecture will allow the car to be more practical in design and performance. It will also accommodate the advanced hybrid technology Honda is considering itself to be a pioneer.
The current Jazz is already pretty impressive inside but the new-generation model will feature a large infotainment screen with dials below for climate control functions.