2019 Hyundai Genesis G70 Will Come With Manual Transmission Option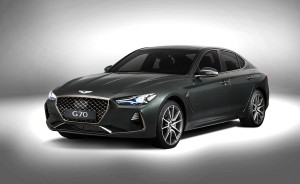 The upcoming 2019 Hyundai Genesis G70 compact sports sedan will come with a manual transmission option, a representative for the South Korean automaker said. Genesis is Hyundai's standalone luxury brand.
This manual transmission option has just placed the G70 in a segment that has increasingly become lacking of options that would allow you to "row your own" vehicle. Kevin Smith, Genesis' spokesman, said in a report by The Car Connection that the 6-speed manual gearbox will be paired with the G70's standard 2.0-liter turbo-4. There are no details though on the pricing of these different trim levels.
It is further revealed that the G70's manual option is only for purists, which means those who can handle the turbo-4 and a rear-wheel drive. On the other hand, the more powerful 3.3-liter twin-turbo V-6 engine will be exclusive with the 8-speed automatic that will be optional with the turbo-4.
It's in the fuel economy that will suffer, apparently. The rear-wheel-drive G70 will be powered by the 2.0-liter inline-4 with manual transmission. That has an EPA rating of 18 mpg city, 28 highway, and 22 combined. Compare that to the 22/30/25 mpg for the G70 with an automatic transmission, the turbo-4, and rear-wheel drive, and the manual option surely did a take a lot of hit.
The rest of the lineup will have these ratings: 21/28/23 mpg for the turbo-4, the 8-speed automatic, and the all-wheel drive, 18/26/21 mpg for the optional V-6, and 18/25/20 mpg for the V-6 and all-wheel drive.
The G70 will probably make its debut this early 2018 as a 2019 model, so that should come anytime soon. As for the prices, though there is no official word yet, it will probably be in the $30,000 bracket.
Aside from the Hyundai Genesis G70, other luxury models from other brands offering manual transmission are the Cadillac ATS, Audi A4, and BMW 3-Series.