2019 Hyundai Ioniq Gets New Safety, Infotainment Tech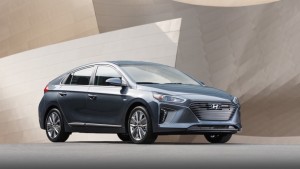 There will be new safety and infotainment technology for the new lineup of the 2019 Hyundai Ioniq. There will be more voice-recognition features and standard remote charge management for electric and plug-in hybrid models.
The models will get navigation capabilities, including an enhanced, natural-language, server-based voice recognition with a new search database that can detect the locations of charging stations. Some of the new available features are driver attention alert, high-beam assist, and automatic emergency braking with pedestrian detection. These are standard for the SEL trim, which also included lane-keep assist and adaptive cruise control.
To be able to make all of these promises come true, Hyundai had to partner with ChargePoint, which operates more than 32,000 charging locations. What they'll do is provide Ioniq owners access cards and the ability to locate charging stations through the MyHyundai/Blue Link mobile app. The Ioniq electric and PHEV models will come with Blue Link, Google, and Alexa, which will enable the drivers to monitor the charging schedules even when they are not in the car. The tech would also notify the drivers of possible savings they can get during off-peak hours when electricity prices are down.
There are three variants of the Ioniq—the Hybrid, the Electric, and the Plug-In Hybrid.
The Hybrid has a 58 mpg rating from the 1.6-liter direct-injected engine, 32-kilowatt electric motor and 1.56 kWh lithium-ion polymer battery. The Electric variant has 136 mpge rating and can go 124 miles from one charge. The power comes from its 28.0 kWh lithium-ion polymer battery. The Plug-In Hybrid, on the other hand, offers 29 miles of uninterrupted driving for electric power. It uses a 1.6-liter direct-injected Atkinson-cycle four-cylinder mated to a six-speed dual-clutch transmission, a 44.5 kW electric motor, and 8.9 kWh battery.
Pricing hasn't been announced yet for the 2019 model, though it will be available starting this summer.