2019 Mercedes-Benz B-Class Makes Its World Premiere
For a minivan, the Mercedes-Benz B-Class does not enjoy the same level of popularity with its brand's other luxury cars and sport utility vehicles. Therefore, Mercedes raised the stakes with the 2019 model year unit of the auto to make it more appealing to buyers.
Exterior
The B-Class has many similarities with the A-Class in terms of styling. However, compared to the A-Class hatchback, the new B-Class was made to feature a Sports Tourer design with its longer wheelbase and higher ride height.
Compared to the 2018 model year, the 2019 B-Class features a cleaner look with its smoother surfaces that are almost free of creases. Again, the same treatment was copied from the A-Class. The new model also distances itself from the outgoing unit with its lower roofline, short muscular overhangs, front lip spoiler, chrome linings and wheels with sizes ranging from 16 to 19 inches.
Britta Seeger, Member of the Board of Management of Daimler AG and responsible for Mercedes-Benz Cars Marketing & Sales, describes the new B-Class as more chic and more practical than its predecessor. The more dynamic form of the auto allowed its maker to lower its drag coefficient down to 0.24 from the original 0.25. She added that the vehicle is designed for the family.
Interior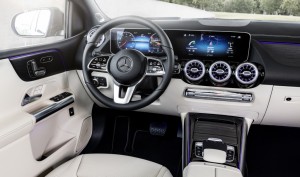 The interior of the new B-Class is a notch up from its previous model as it is now equipped with almost the same level of detailing found in the A-Class Sedan. The highlights of its cabin include the turbine-inspired air vents and dual 7.25-inch screens. The displays can be upgraded to 10.25 inches and there is an optional head-up display for buyers as well. Let's not forget that the auto is getting the MBUX intelligent multimedia system of its brand too.
The longer wheelbase of the B-Class Sports Tourer also means more legroom for the occupants on its second-row of seats.
Trims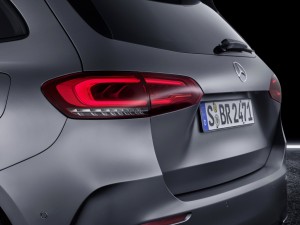 The 2019 B-Class is available in five trims. These are the B180 with 136 hp, B200 with 163 hp, B180d with 116 hp, B200 with 150 hp and B220 with 190 hp. An eight-speed automatic dual-clutch transmission comes as standard for all models.
Sale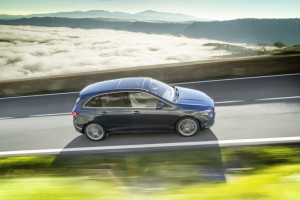 The new Mercedes-Benz B-Class will be available to buyers on December 3, 2018. The deliveries of the vehicle will start in February 2019.
Official Photos