2019 Peugeot 208 GTi Hot Hatch To Come In Pure EV Form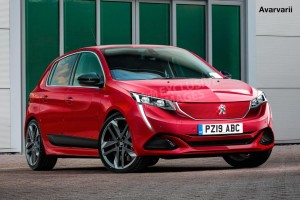 We've been pretty excited with the 2019 Peugeot 208 GTi hot hatch when it was introduced, but it looks like there's another reason to party. According to the French automaker, it is lining up a pure electric form of the 208 GTi hot hatch. The electric vehicle (EV) variant will sit alongside the petrol version when both are introduced at next spring's Geneva Motor Show.
The arrival of an EV form will mean Peugeot will switch to a new architecture, preferably the Common Modular Platform or CMP, which offers much-improved efficiency, cheaper build costs and, crucially, the scope for pure-electric variants.
This is not really a surprise since we're expecting that an EV form will come. Earlier, Peugeot announced that the next 208 will arrive in two versions: the CMP (also known as the EMP1) and the e-CMP. However, what's surprising to us is the fact that the electric 208 will also be offered as a GTi.
Peugeot head Jean-Pierre Imparato spoke to Auto Express and said that full details of the cars will be revealed in March, just in time for the show in Switzerland. He added that each time the brand comes up with a new model, it will be offered in an electrified form, so it will still be up to the buyers to choose the powertrain they want.
A pure EV form is being offered in the GTi version because Imparato does not want "to generate [a] difference between EV and combustion-engined models." Aside from this tidbit, Peugeot is also working on manufacturing and developing high-performance vehicles with electrified powertrains.
Just last year, it has been revealed that the French company is developing a 300-bhp hybrid version of the 3008. There are also other concepts, though the most notable is the 308 R Hybrid.
Photos via Auto Express