2019 Subaru Crosstek PHEV Is Company's First Plug-In Hybrid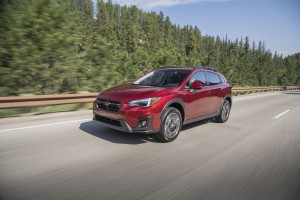 Subaru's third best-selling car, the Crosstek, will be the company's first-ever plug-in hybrid. It's quite telling, actually, that the automaker chose the Subaru Crosstek to be its first plug-in hybrid version seeing as it was the first conventional hybrid introduced for the 2014 model year.
Since the Crosstek is the company's fast-selling vehicle, it makes sense that it would like to experiment on it as people are more open to shelling out their money for something they would choose to go with, in the first place. Subaru has yet to reveal photos of the plug-in hybrid variant, so we're left to wonder how this would look like.
The Crosstek PHEV will be similar to the Subaru BRZ since both of them will benefit from Toyota technology—the hybrid system, that is. It will still be paired to a flat-four and will be capable of driving in full EV mode and in conventional hybrid mode. We have yet to receive information on what the range of the Crosstek PHEV will be.
What Subaru did reveal is that the Crosstek PHEV will be coming soon, even as early as the end of 2018. We might be seeing this in dealerships before the year comes to a close. Of course, while we're on the subject of release dates and arrival in dealerships, this also signals that more information and details are bound to come in droves.
There aren't many plug-in hybrid compact crossovers in the market, but there are a few and they are quite interesting. The closest competition of the upcoming Subaru Crosstek PHEV would be the Kia Niro PHEV, which claimed to have a range of 26 miles on a single charge and a solid 46 mpg when running with the gas engine. The Kia Niro PHEV has a starting price of $28,840, so we're thinking the Crosstek PHEV might play near this number.
Another competitor is the Mitsubishi Outlander PHEV with 22 miles of range and 25 mpg on gas. The Outlander has more cargo, but it has a higher base price of $35,915.