2019 Suzuki Jimny Is A Cute Little Off-Roader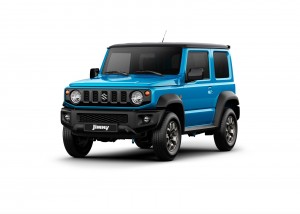 The production run of the third-generation Suzuki Jimny—the lone, pint-sized, affordable off-roader in the market—is over after nearly two decades. Here comes the fourth-generation of this cute little thing, which is going to be a 2019 model.
We know, it appears slightly like the Mercedes-Benz G-Class, and why not? It seems like the G-Class is now the automotive world's standard for compact off-roaders. The Jimny's new design is actually reminiscent of the first-generation Jimny that was introduced back in 1970. The boxy grille and round headlights are the same, but the spare-tire mount at the rear may be the reason why this model is being compared to the G-Class.
You may not notice the huge similarities with the luxurious G-Class when you look at the Jimny from the front and sides, but the two models have their commonalities when seen from the back.
Suzuki has not released the specifications for the Jimny yet, but it will likely come in single- and two-tone exterior colors. There's going to be a trim made of a Kinetic Yellow hue, so that's going to be cool.
Once inside, the SUV transforms into a rather "utilitarian" machine with a basic setup but plenty of functions. Buttons, dials, and switches are aplenty, so drivers would not be left wanting in terms of tinkering with the infotainment display. Speaking of which, there's a touchscreen unit on top of the center stack, but the instrument cluster will be populated by analog dials.
According to Suzuki, the 2019 Jimny will have a ladder frame chassis, three-link suspension, and a low-range transfer box to complement its 4×4 driving system. There is no information yet about the engines that will power the Jimny, but we expect a manual gearbox in its transmission.
When Suzuki exited from the United States in 2012, it looked like we've seen the last of it. The Jimny won't find its way back to American soil. Around the world, it has sold 2.85 million units.