Daily Archives:
April 8, 2019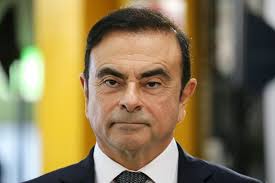 Nissan removed disgruntled former boss Carlos Ghosn from its board of directors on Monday, just more than two months after he resigned as chief executive and chairman of Renault, whose chairman, Jean-Dominique Senard was appointed a director of Nissan's board.
The shareholders also removed Mr. Ghosn's former right-hand man Greg Kelly, a former executive who has been charged for collaborating with Ghosn in the alleged financial misconduct he was charged with in Japan.
Mr. Ghosn was arrested in November 2018 for under-reporting his compensation, released on bail in early March, and re-arrested for the fourth time last week in Tokyo. He was with his wife, Carole, when he was arrested. Mrs. Ghosn said the ordeal was humiliating and called on French president Emmanuel Macron to ensure that her husband gets a fair trial.
The couple holds multiple citizenships with Lebanese and French passports. Ms. Ghosn's Lebanese passport was confiscated but she was able to exit Japan using her French passport.
The former Nissan boss, who was responsible for the Renault-Nissan-Mitsubishi Alliance, was re-arrested last week in connection to allegations that $5 million sent by Nissan Motor Co. subsidiary meant for an Oman dealership was diverted to a company controlled by Ghosn.
Some shareholders are also calling for Nissan's chief executive Hiroto Saikawa to step down because of the controversy. Reportedly, some shareholders don't believe that Nissan's top brass was unaware of Ghosn's misconduct.
Saikawa, however, plans to stay as Nissan's boss for a while. During the extraordinary meeting at a Tokyo hotel, Saikawa and some Nissan executives bowed before the shareholders and apologized for the scandal brought about by Ghosn. The controversy involving a top executive was unprecedented in Nissan's history.
Nissan was on the brink of bankruptcy when Renault sent Ghosn two decades ago to straighten things out. Since then, the former chief executive righted the Yokohama-based automaker and forged an alliance involving Nissan, Renault, and Mitsubishi. Today, the alliance rivals the sales of Volkswagen AG and Toyota Motor Corp.
Saikawa said the company will stick by the alliance.