Daily Archives:
April 25, 2019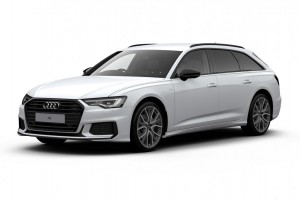 The Audi Black Edition trim, a range-topping variant that shows plenty of teeth with dark-tinted styling, is making a comeback. This time it will be on the latest Audi A6 saloon and Avant estate.
Audi's Black Edition is a range-topping trim that's based on the popular S-Line configuration coupled with darkly tinted styling designs. Perhaps the biggest change you'll see with the trim is the new alloy wheel design. The S-Line version of the A6 gets 19-inch wheels while the Black Trim boosted this up to 20-inch V-spoke design finished in matt titanium.
The exterior design is littered with black tinted design—from the rear windows to the grille to the front air intakes to the door mirrors to the rear diffuser. These are all finished in black. On the A6 Avant, the roof rails are clad in black, too.
Inside the cabin, things are more S-Line than Black Edition. The interior is the regular S-Line trim we got to see before. It has front sports seats finished in a combination of Alcantara and leather with a perforated leather sports steering wheel.
All technology you'll see on an A6 Black Edition was carried over from the S-Line trim. Standard to both trim levels is Audi's latest dual-screen infotainment set-up. Buyers can opt to upgrade the system via a Technology pack, which will include Google Maps-assisted navigation, a much larger 10.1-inch lower display and Audi's Virtual Cockpit digital instrument panel.
Whereas the S-Line trim stuck with regular LED units, the Black Edition improved on these with LED matrix headlights.
You can now get your hands on the A6 Black Edition either for the Saloon or the Avant estate. The models are priced from £44,635 ($57,563.80) for the 2.0-liter turbocharged 40 TDI saloon. That's £2,340 ($3,018.19) more than its equivalent S-Line Model. The Black Edition trim can fit all available powertrains of the A6.