Daily Archives:
April 29, 2019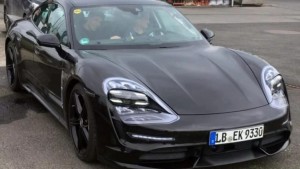 We have seen Porsche Taycan prototypes before but never the way these spy photos were taken. It feels like we have been waiting for this moment for a long time. Mind you, we only want to have a glimpse of how the Taycan will look like from the front end.
Luckily, one member of the taycanforum.com managed to come across the electric vehicle from Porsche in its full prototype glory, with only a bit of camouflage covering the car. It is only now that we can have a glimpse of the true shape of the Taycan's headlights and if these spy shots are any indication, we say these headlight units are very aggressive and almost un-Porsche like in its dynamism.
While we expect the headlights to flow naturally with the rest of the bodywork, this is not going to happen with the Porsche Taycan. Porsche has gone the route of an edgier design. The lightning units have been tucked away in a little nook, effectively distorting that image we have of the Taycan as having a singular flowing design.
The sculpting from the headlight units angles downward to where the lower front fascia is located. This created an aggressive look that's distinct only to the Taycan.
The lower bumper is devoid of camouflage also and the spy photos showed that there'll be a huge opening there. While we expect the opening to be large because this is an electric car, maybe the one on this prototype is a little too large for our liking. Still, we expect this one's done for aerodynamic purposes or to help cool down the electric powertrain. If it's going to make the Taycan easier to handle then, we suppose that's a good gamble.
The final design for the Taycan should be ready in time for the Frankfurt Motor Show this fall. Then, the all-electric Porsche will start production for the 2020 model year.