Daily Archives:
May 7, 2019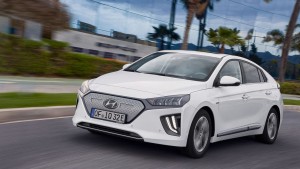 Information from Hyundai Europe is indicating that the Hyundai Ioniq Electric will get a bigger battery pack and more range. As of now, this update was only confirmed by the South Korean company's European arm and we still don't know if the same update will be carried to the US.
Autoblog said it already asked Hyundai for confirmation that the update will follow through in the US market, but the South Korean automaker hasn't given any information on that yet. Does it make sense for only the European version to get this update? No, right? So, we'll assume that the same specs will be inputted in the US' Ioniq Electric.
As of now, the electric vehicle has a 28 kWh battery pack that has 124 miles of range according to the EPA. With this update, the Hyundai Ioniq Electric's range is expected to jump near the 183-mile–range on the WLTP cycle, thanks to its new and improved 38.3 kWh battery pack. We still have to wait for official EPA ratings for the new pack.
It remains to be seen, though, if the new battery pack will simply be larger or if it will be more efficient, too. Hyundai has yet to release the car's specs for its US audience.
The car's electric motor also gets a power boost. The current Hyundai Ioniq Electric only produces 118 horsepower and 218 pound-feet of torque, but the new one is expected to increase that output to 134 horsepower and the same torque rating. Also, the Ioniq's onboard charger gets an upgrade, which means faster charging time for you folks out there.
The 6.6-kW unit has been bumped to a 7.2-kW unit, which will allow the car to go from zero charge to about 80% in 54 minutes when plugged into a 100-kW fast charger.
This new version of the Ioniq Electric will also get a few design changes, the most obvious one being a new shield grille.
The Hyundai Ioniq Electric has to compete with the likes of the Hyundai Kona Electric, the Kia Niro EV, and the Soul EV. All of these cars pack a larger 64-kWh battery pack that has ranges from 239 to 258 miles. Hyundai's best bet to be competitive in this market is to put the Ioniq within a more reasonable budget range.