Monthly Archives:
June 2019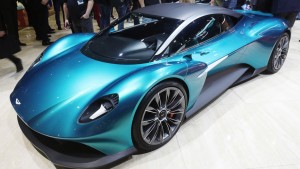 Aston Martin CEO Andy Palmer is making sure to fulfill his promise that the brand will be the last car manufacturer in the world to offer a manual transmission. The Aston Martin Vanquish sports car will be offered with a manual gearbox.
That should be enough for those who are waiting for the retail versions of the Valkyrie and the Valhalla. Palmer said he wants to honor that commitment through the Vanquish.
The only problem with this is that the seven-speed manual transmission released for the Vantage AMR forced a reduction in power and speed. Developed with transmission engine maker Graziano, the gearbox was paired with the 4.0-liter twin-turbo V8 that's used in the Mercedes-AMG.
The engine produces 461 pound-feet of torque compared to the 505 pound-feet in the automatic-equipped coupe. The detune made the car slower by 0.3 seconds, adding to the 0-60 mph start time.
To reach this speed, the Vanquish will use an electrified, twin-turbocharged, 3.0-liter six-cylinder developed in-house at Aston Martin. The Vanquish will need to produce more power and torque to be better than the Vantage and compete with the Ferrari F8 Tributo, McLaren 720 S, and Lamborghini Huracan.
Though Aston Martin has yet to release official figures, it looks like the Vanquish will give more power than the current 700 horsepower and 568 pound-feet of torque for the F8 and the 720 S. The Valkyrie and the Valhalla, which will use the same engine to produce around 1,000 horsepower, will likely forego the manual transmission.
According to Palmer, the Valhalla will come with a paddle-shift transmission. It will also get a bonded aluminum tub instead of carbon.
The Vanquish will be unveiled in 2022 with prices to start at around $450,000. That should be a $300,000 difference from the Vantage. To follow are variants Volante convertible and the AMR model.