Daily Archives:
June 29, 2019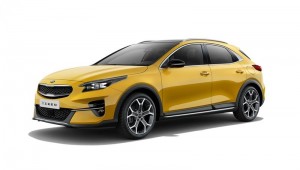 The Ceed family has just added another one on its lineup. Called the XCeed, it's a slightly more off-road capable and taller version of the Ceed hatchback. This is the fourth model to arrive in the Ceed family after the regular hatchback, the Ceed Sportswagon, and the ProCeed shooting brake model.
The all-new Kia XCeed is more than just a raised version of the compact hatchback. Although it looks related to the Ceed family, Kia's engineers and designers have made sure that the XCeed will stand out from the rest of the lineup.
There are 12 available paint finishes for the XCeed. Out of that number, 11 are shared with the other Ceed models, but the Quantum Yellow (the same color used in the official photos) is unique to the XCeed.
If there's one thing that the XCeed shares with the rest of the Ceed family, it's the wheelbase. At 2,650 millimeters (104.3 inches), it is longer compared to the hatchback. It is worth noting that the front overhang is 25 millimeters longer and the rear overhang is 60 millimeters longer. It's an inch wider than the hatch and has 1.6 inches more ground clearance.
Inside the cabin, the XCeed's interior is completely similar to the rest of the Ceed family. That's not a bad thing, of course, since the Ceed already has a pretty good interior. The clean design and layout give way to highlight the floating infotainment screen.
Standard to the XCeed is the eight-inch screen that can be enlarged to a 10.25-inch at an extra cost. There's a new feature which will become the brand's first fully-digital gauge cluster. It displays a 12.3-inch screen with a display resolution of 1920 x 720 pixels.
The hood houses three direct-injection T-GDi engines: a one-liter engine that makes 118 horsepower and 172 Nm of torque, a 1.4-liter with 138 horsepower and 242 Nm, and a 1.6-liter that makes 201 horsepower and 265 Nm of torque.