Monthly Archives:
October 2019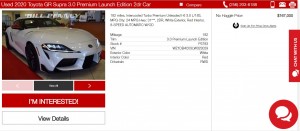 We thought that we have seen the worst when we learned that some merchants in the US were charging double for the Launch Edition of the new Toyota Supra. Recently, one dealership has proven us wrong because it just posted the car with triple its price tag!
Since Toyota announced that they are only making 1,500 units of the Supra's limited edition model, some dealerships have taken the opportunity to jack up the selling prices of their supplies. The store that really hit the roof this time is Bill Penney Toyota, which is located in Huntsville, Alabama, according to Motor1.
The dealership in question is currently selling the Toyota Supra Launch Edition for a whopping $167,000. That's a ridiculously $111,750 more than the recommended retail price posted by Toyota.
As a recap, the company has a starting price of $53,990 for the base Premium trim of the car. Going for the Launch Edition only sets the buyer back by $1,260.
Going back to the notorious dealership, one of Bill Penney Toyota's Supra Premium listing is at $63,000, which is $9,010 up from the vehicle manufacturer's recommended retail price. That means the buyer will have to shell out $104,000 from Premium to Launch Edition that only adds black wheels, red mirror caps, red leather upholstery, and Launch Edition badges to the car.
If that's bad enough, we haven't mentioned yet that the overpriced Launch Edition has already clocked plenty of miles. From its purchase, it seems that the owner of the dealership has taken his sweet time taking the car for a joyride, so its reading is now at 182 miles.